IFM Team Works Together to Create World-class Office, Sodexo's Customized Steward Services
What should a world-class office be like? Much research on future office space offers an overview of different ideas, and we think one newly-built office building with integrated facility management (IFM) services provided by Sodexo may be one of the best in the world.
The client conceived the idea of this office building in early 2000 when it owned five separate office sites across Shanghai. Their challenge was to create the best-possible office solution. Their answer is the 22-storey office building that has brought together their five sites into one area of 38,000 square meters. This makes the Shanghai building the largest office space of the client worldwide after its oversea headquarters. More than half of the building is shared open space, along with creative space and a fitness center that covers a whole floor. There are also multiple-themed meeting rooms, systems management including i-visitor appointments and Condeco room booking systems. All of these services make the building a popular office site that greets tour groups from across the world almost every day. The client and Sodexo share the same challenge, namely to ensure the building functions effectively and is fully utilized so as to provide customized management services for everyone who works there.
More Services Integration, Better Consumer Experience
Sodexo's on-site team provides 15 services lines at this site – cleaning, office greening, pest control, mail dispatch, waste management, meeting room management, fitness centers, engineering, catering, tea rooms, security, reception, help desks, Environment, Health & Safety (EHS) management and on-site communication. Rather than the traditional sub-contracting method, in which separate services are carried out by different operators, IFM services can co-ordinate multi-level management, decentralize supply chains and cater for differences in work flows to achieve an "unified consumer experience".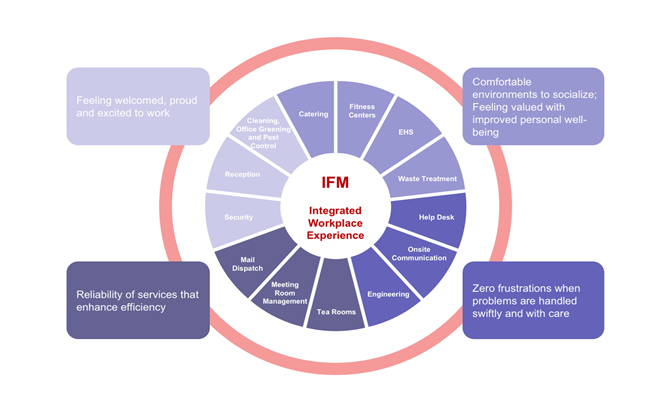 Sodexo's onsite team's 147 employees adopt standard operating procedures (SOP) in providing unified service experiences for the end users. Any facility management issue inside the building can receive the same quick service response via the helpdesk telephone service. Moreover, comprehensive information integrated by Sodexo's on-site communication team from various service lines can be obtained through information platforms, roll-ups, electronic screens and other channels.
Integrated "steward services" make it possible for a range of services to coordinate. For example, the reception obtains the visitor flow rate through the visitor registration system and provides data for food preparation to the catering service. Similarly, the cleaning route and manpower planning, security inspection, waste management, EHS management, tea rooms and other business planning can all be coordinated according to the building's changing requirements. SOP also ensures that checks are made across various services. Tea room personnel could grasp synchronized notice once supplies need replenishing from frontline cleaners, and each team member is a "supervisor" for EHS issues around the building. All these are just the tip of the iceberg of IFM multi-point joint collaboration.
The client believes that IFM is essential to every company, especially large companies, "IFM is a trend which enhances management timeliness and reduces management cost through third-party integrated management. The interaction with one supplier can make the whole enterprise operate in an efficient way."
Exclusive Professional Tools, Specially for Customized Services
"The project management consultations by Sodexo are of great value to us. For instance, we have taken into account professional suggestions from the Sodexo team in the design of our fitness center, course setting and facility selection." The client said. In the early design stage of the office building, Sodexo joined its clients' project teams and offered professional suggestions on overall service solutions by relying on its global operations experience and expert resources.
Take the dining hall operated by Sodexo in this building for example. Before its opening, the Sodexo team used its exclusive Personix™ Note1 tool to get a picture of the behaviors of the workforce that would be using the dining hall. It gauged that 56.6% of the employees were classified as "networkers" and "traditionalists". This means that more than half of the employees prefer traditional and authentic flavors, multiple choices, high-quality ingredients, visible cooking processes and sharing their dining time with others.
Based on the PersonixTM results, the Sodexo team advised that seating in the dining hall should be arranged that groups of three to four people could sit together, and spaces along the dining line should be set aside to display on-site cooking. The team also leveraged Sodexo's global resources by inviting chefs specializing in French cuisine to the site to bring French flavors and French cooking class, as well as VIP cocktail. Such special activities have been proved very popular, with a satisfaction rating of an impressive 96%.
Bottom-up Innovators, Services Always in Progress
"Sodexo's international resources and local customization rely on continuous innovation, which is fully expressed in IFM services," says Betty CAI, IFM Manager of Sodexo, who has served at the site since it was launched and has witnessed the values of IFM integrated services for clients.
80% of menus will be replaced every other day, and all the menus are updated weekly, which involves menu experts and nutritionists as well as innovation from the on-site team. Everyone in Sodexo's on-site team is an innovator. If cleaners and cashiers work out creative new dish ideas, they have internal discussions on their feasibility, work on turning the ideas into realities and introduce new dishes after testing.
Seasonal specialties are offered in the menu accordingly. For example, they cook sweet green rice balls stuffed with dried meat and egg yolk or bean pastes, as well as preserved vegetables. The latter combines local ingredients from the regions south of the Yangtze River and as only 600 are made each week, they trigger a rush in the dining hall.
In order to improve IFM services, Sodexo's on-site team raise feedbacks from each individual in the team on anything they think could be done better by "snapshotting" on their mobile phones, hopefully making an improvement ahead of consumers' suggestions. Such an innovative initiative has caught the attention of frontline employees, who take part with enthusiasm across all the IFM services. Within one month, team members suggested more than 200 improvements, 72% of which were adopted within two hours. Spirit of Progress, one of the values shared by Sodexo employees, is reflected in such an initiative.
Sodexo's cutting-edge management methods and excellent service ethic are highly praised by customers. At the recent annual supplier conference of the client, the 2017 Sincere Cooperation Award goes to Sodexo. More than 100 suppliers were invited to the conference, among which only six won the honor.
The client believes that with the shared operational concepts, Sodexo's professional and innovative capabilities of on-site team in providing IFM is recognized. "Both sides will continue to join hands to safeguard and optimize this 'world class office' in the future." he says.
Note 1: Personix™ is a tool exclusive to Sodexo for analyzing consumer behaviors and segmenting consumer needs and attitudes. Through questionnaires, in-depth interviews and data analysis, Personix™ helps us to better understand the unique needs and expectations of consumers on different Sodexo sites and create customized solutions.