Facilitating Professional Healthcare Management - Providing healthy and comfortable Quality of Life services to healthcare workers
Recently-released statistics indicate a serious imbalance between supply and demand in the current medical market in China — compared with a doctor/patient ratio of 27.4/10,000 in England, the ratio in China reaches only 17.4/10,000. The scarcity goes even more obvious when it comes to high-quality medical resources.[1] The rapid rise of the Internet highlights challenges facing the traditional medical industry even further. Today, domestic patients face problems such as difficulty in getting properly registered, the high cost of getting medical treatment, poor medical treatment and the overcrowding of large hospitals. Why? Various factors, including the fact that healthcare workers take on heavy workloads and face huge pressure, contribute to the fact that the profession of "doctor" is no longer a top career choice. This leads to a shortage of doctors, which in turn has a negative impact on the efficiency of organizational and institutional management in the healthcare industry, even turned into a vicious circle.
In April 2016, Tongren Hospital affiliated to Shanghai Jiao Tong University School of Medicine ("Shanghai Tongren Hospital") joined hands with Sodexo in trying to solve the "head-scratching problems" faced by the Chinese medical industry, as well as promote "efficient healthcare administration". After nearly three years of cooperation and research, Shanghai Tongren Hospital and Sodexo formulated an integrated "Quality of Life services" solution exclusive to the healthcare industry, covering a series of integrated facilities management projects ranging from renovating hospital restaurants to building a "workers' home". Other upgrades include better management of the new medical students' dormitory.
Sodexo is the world's leading service provider in the health and medical industries. With more than 40 years of business experience, it has enjoyed long-term cooperation with more than 4,300 hospitals around the world, with an average contract term of 15 years. Additionally, Sodexo has over 15 years of operating experience in serving Chinese public hospitals. The introduction of international resources and optimization of local best practices have been implemented and developed at Shanghai Tongren Hospital, boosting hospital management and operating efficiency.
Sodexo's service solution:
120 on-site employees: senior chefs, professional service staff, clinical dietitians and fitness instructors, etc., ensuring the health and comfort of healthcare workers.

Participating in the kitchen design: Sodexo's kitchen design and engineering team and on-site service team had been involved in kitchen design at the Xianxia Road Campus before officially opened the site, laying the foundation for high quality service.

Staff canteen operation: based on a diversified menu, each year providing Chinese and Western breakfast (about 600 person-times), lunch (about 1,300 person-times) and dinner (about 100 person-times), including snacks and a buffet; serving small-pot dishes; supportive of celebration events and activities of the hospital, including tea breaks, themed catering, food festivals, etc.; introduction of Sodexo's self-owned coffee brand "Le Café", thus breaking the limitation of single brand coffee products; and providing high cost-performance hot drinks, juice, counter meals and retail products.

U e+ patient nutrient meal solutions: Integrating the hospital HIS system and B/S backstage management website to allow patients to order meals online; combining doctor advice with the guidance of Sodexo's clinical dietitians to conduct meal ordering management, preparation and delivery; and upgrades the patient food label (including name, bed number, doctor advice on dietary, QR code and dietetic contraindication), to facilitate patient recovery.

Gym operation and management: arranging on-site trainers and receptionists; providing equipment use instructions and gym operation services; helping organize "workers' home" fitness competitions; receiving an average of 200 person-times per month.

Medical students' dormitory management: providing dormitory property management services including cleaning, security, etc.
Marking the 150th anniversary of the hospital's establishment, Shanghai Tongren Hospital was included in the "Sodexo Global Chef Program". French chef Yannick visited the staff restaurant at Shanghai Tongren Hospital and interacted with healthcare workers through activities such as on-site cooking, lucky draws and joyful selfies, consumer cooking classes and a VIP cocktail party. This event also enabled the staff to taste authentic French cuisine. The program won 96% satisfaction at Shanghai Tongren Hospital.
In the field of healthcare, Sodexo also shares its healthcare resources in France with Shanghai Tongren Hospital. In December 2016, introduced by Sodexo, a medical delegation from Rhone-Alpes, France, visited Shanghai Tongren Hospital. The two sides communicated on the construction of important departments such as information-based outpatient facilities, obstetrics and rehabilitation centers, further accelerating the discipline construction and improvement of Shanghai Tongren Hospital via this international communication.
With its staff as its center, Shanghai Tongren Hospital adopts an advanced hospital management style and has proved itself to be a pioneer in multiple initiatives concerning employee welfare among public hospitals. These initiatives include the modern-style "workers' home", a public space rarely seen at other public hospitals. In providing wellness services, Sodexo has not only introduced the American concept of "Mindful" to the domestic market, but has also provided services for almost 10 corporate clients. Sodexo has implemented cross-field practice by introducing it to the Shanghai Tongren Hospital, thus creating the first wellness service operation in public hospital.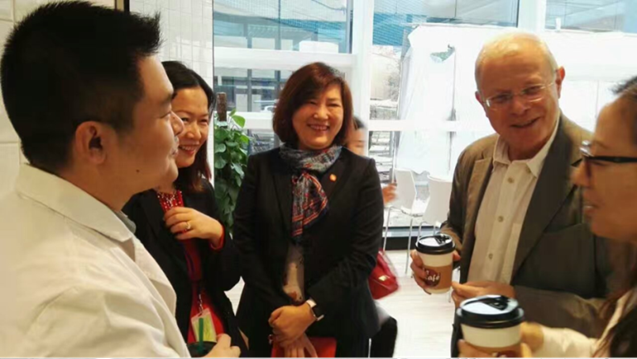 Sodexo's Quality of Life services have been well received by hospital staff, with an average satisfaction rate of 89%. Sodexo team is taking on the difficulties of the medical industry to help organizations achieve their business goals and eliminating difficulties and anxieties to deliver new energy to medical institutions. This is achieved through Sodexo's integrated facilities management solution "Quality of Life", as well as its own unique advantages.
[1] Orderly Develop Internet Medical Service. Economic Daily, Page 05, October 7th 2015