Human Capital Management 3.0: Transforming the Employee Experience
Human Capital Management 3.0: Transforming the Employee Experience
While new technologies have delivered significant benefits, workplace complexity continues to rise and global employee engagement levels remain low. As organizations look for ways to simplify interactions and reduce overload, the employee experience has come into focus as a key area for improvement—and Human Capital Management (HCM) is increasingly being leveraged as a solution.
HCM comprises a wide-ranging category of software solutions and services that can play a key role in the employee journey. Early HCM implementations were important milestones, but HCM 3.0 brings a new level of disruptive innovation based on "choice architecture" and a more complex, integrated experience philosophy.
Effective HCM 3.0 delivers upon the idea that the employee experience can—and should—become the life experience through solutions that can be used at work and at home. This means seamlessly blending work, community, family and material aspects of what employees are seeking in their day-to-day lives.
Through HCM 3.0, there is a real opportunity to get all of the different technologies and programs working together to help employees and organizations perform at their best. With insights from Mia Mends, Sodexo Inspirus CEO, Bret Starr, an expert on HCM technology, and Jacob Morgan, a leading authority on the future of work, this article describes how the next evolution of HCM is transforming all aspects of the employee experience.
Get the trend PDF report, please follow this link: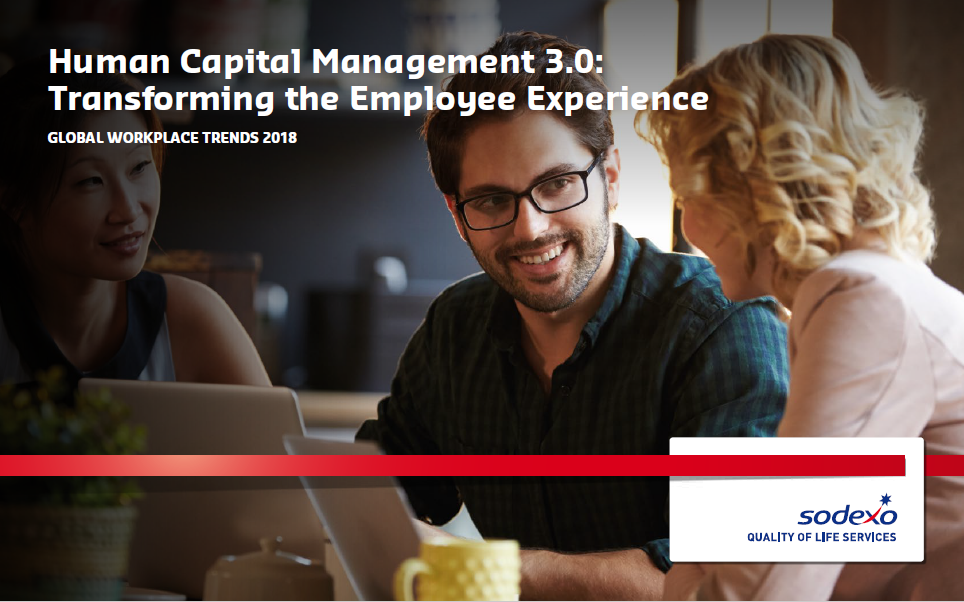 To go further

About the 2018 Global Workplace Trends
Every year, Sodexo looks at the main factors affecting the world's workers and employers now — and in the future. These trends resonate across the spectrum of employee experience and can serve as a useful tool for employers navigating a landscape that is ever evolving.