Sodexo provides Quality of Life services to create a better future for students and their communities.
Quality of Life in education means an environment in which students of all ages take pride in achieving academic honors and excelling in sports and activities. Quality of Life means healthier and more satisfying meals, and a community where students, faculty and staff readily share ideas, enjoy learning and have a sense of belonging.
Quality of Life requires a partner with a strong commitment to the community through sustainable, forward-thinking innovations. From pre-school through high school, we support students on their path to adulthood. To help them achieve their academic aspirations, Sodexo fosters a healthy lifestyle and creates living and learning environments that are conducive to success.
View the APAC Education Brochure
Quality and Reliability

Healthy and safe eating is Sodexo's top priority when it comes to caring for students, the leaders of the future.

Health and Wellbeing

Sodexo focuses on student health and wellness with products, programs and services that promote holistic student wellbeing.

Living and Learning Environment

We design, manage and deliver innovative and comprehensive programs to improve the quality of the students' campus environment.

Sustainability

Sodexo promotes sustainable development within the student community.
What we do for Education?
Sodexo International Education Excellence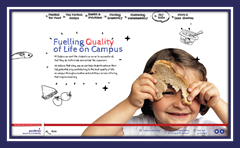 Visit the international education website and learn more about Sodexo excellence.
Awards

Sodexo named one of the "World's Most Admired Companies" by Fortune Magazine