Sodexo accelerates a journey started in 2017 - to achieve a -34% reduction in carbon emissions by 2025 (compared to 2017 levels), an objective approved by the Science-Based Targets initiative (SBTi). This Net Zero commitment, promoting desirable healthy food, and the vegetal culinary expertise of our chefs, reinforces our position as world leader in sustainable food and valued experiences.
"This major goal of reaching Net Zero by 2040 is an integral part of our ambition to become the world leader in sustainable food and valued experiences. To reach it, we are undertaking a gradual and profound transformation of our operations. Having a positive impact has always been a priority for Sodexo. Now, we are going even further. The challenges to be met are many, and will require the involvement of all our stakeholders: suppliers, clients, consumers and our employees."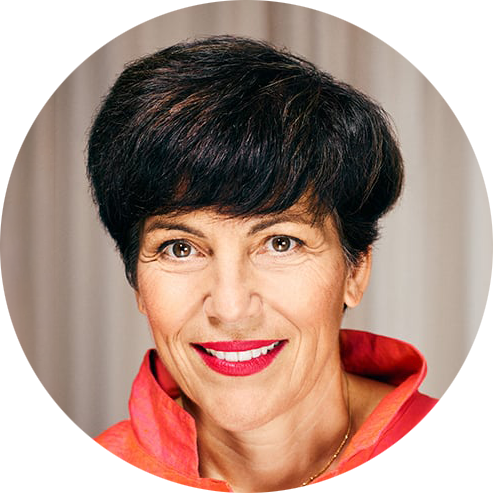 Anna Notarianni
Group Chief Impact Officer
Engage our Stakeholders
99% of our emissions are indirect, coming from the supply chain, energy consumption at client sites as well as food waste. Thus, to reduce the Group's carbon emissions by 90% will require a gradual and profound transformation of its operations, impacting our entire value chain. Therefore, Sodexo will achieve this ambition by involving all its stakeholders: employees, clients, consumers, suppliers, and partners.
4 Levers to Collectively Reduce Our Carbon Emissions
Working with Suppliers
To recognize our responsibility for promoting sustainable farming practices and supporting our suppliers' efforts, we are collaborating with our suppliers to reduce their carbon emissions, via the right product choices and supplier operations.
We are committing to a global deforestation and conversion free supply chain by 2030 for the following priority products: palm oil, soy, beef and paper products, setting specific commitments on deforestation for palm oil, beef and paper by 2025.
Sodexo will continue to focus on developing local sourcing and short supply chains.
Training and Engaging Our Teams
To deliver sustainable, tasty, healthy, and desirable solutions to our clients and our consumers, we have developed a "low-carbon" meal definition as one whose production generates 0.9 kgCO2e or less. Based on this definition and on the expertise and passion of our chefs, we are designing new recipes to ensure that 70% of our main dishes can be labelled "low-carbon" by 2030. Concrete initiatives have already been launched, the "Future 50 Foods", the Sustainable Chef Challenge, and assessment of carbon emissions generated per dish.
"It's essential that we see a focused effort to drive down climate and nature impacts across the food service sector, as a key means to drive change across the food system as a whole. We welcome Sodexo's focus on delivering low carbon meals at scale by 2030 and look forwarding to continuing to work in partnership with Sodexo as they seek to deliver on this ambition." Jo Trewern, Head of Consumption at WWF UK
Reducing Energy Consumption of Our Clients
Our efforts to reduce emissions generated by our operations have a direct impact on our clients' emissions. We will gradually improve our preparation methods to reduce energy consumption. To this end, we will train 100% of our site managers on these new practices by 2027 and ensure all food offers include energy awareness.
As a RE100 member, we are committed to using only renewable electricity in our direct operations by 2025 and encouraging our clients to adopt the same approach, by leveraging our energy management offers.
Accelerating the Fight Against Food Waste
To reduce food waste, we are expanding the deployment of our WasteWatch program to 85% of our sites by 2025. WasteWatch will result in a 50% food waste reduction by 2025. Moreover, to inspire and rally governments, businesses and international institutions around these efforts, we are maintaining our involvement as a founding member of the International Food Waste Coalition (IFWC) and a member of the Champions 12.3 coalition.
Did you know?
Scope 1 & 2 represent 1% of Sodexo's carbon footprint: i.e. fuel for our fleet or for heating buildings we own, energy used by the company (electricity, cooling, etc.), …
Scope 3 represents 99% of Sodexo's carbon footprint: emissions of the various stakeholders (suppliers, consumers, service providers, etc.) associated with Sodexo's activities.
For Sodexo, aligned with Science Based Target initiative (SBTi) guidance for companies, Net Zero translates into a reduction of 90% of our emissions by 2040 (compared to 2017), and then a carbon removal of the remaining 10% by developing a capture and storage strategy.
For Sodexo, the references to "carbon emissions" is a shorthand for 'Greenhouse gases emissions'