SHANGHAI, China, November 6, 2019 - The second China International Import Expo (CIIE) themed "New Era, Shared Future", opened on November 5. Sodexo, the world leader in Quality of Life services, presents at the French pavilion. France is the Guest of Honor.
In the occasion of 55th anniversary of the establishment of China-France diplomatic relations and join hands with many renowned French enterprises to showcase the vitality and elegance of the French economy. CIIE, a platform to promote opening, exchange and integration of regional economy, Sodexo demonstrates its professional Quality of Life services and commitment, as well as its vision for the future China market.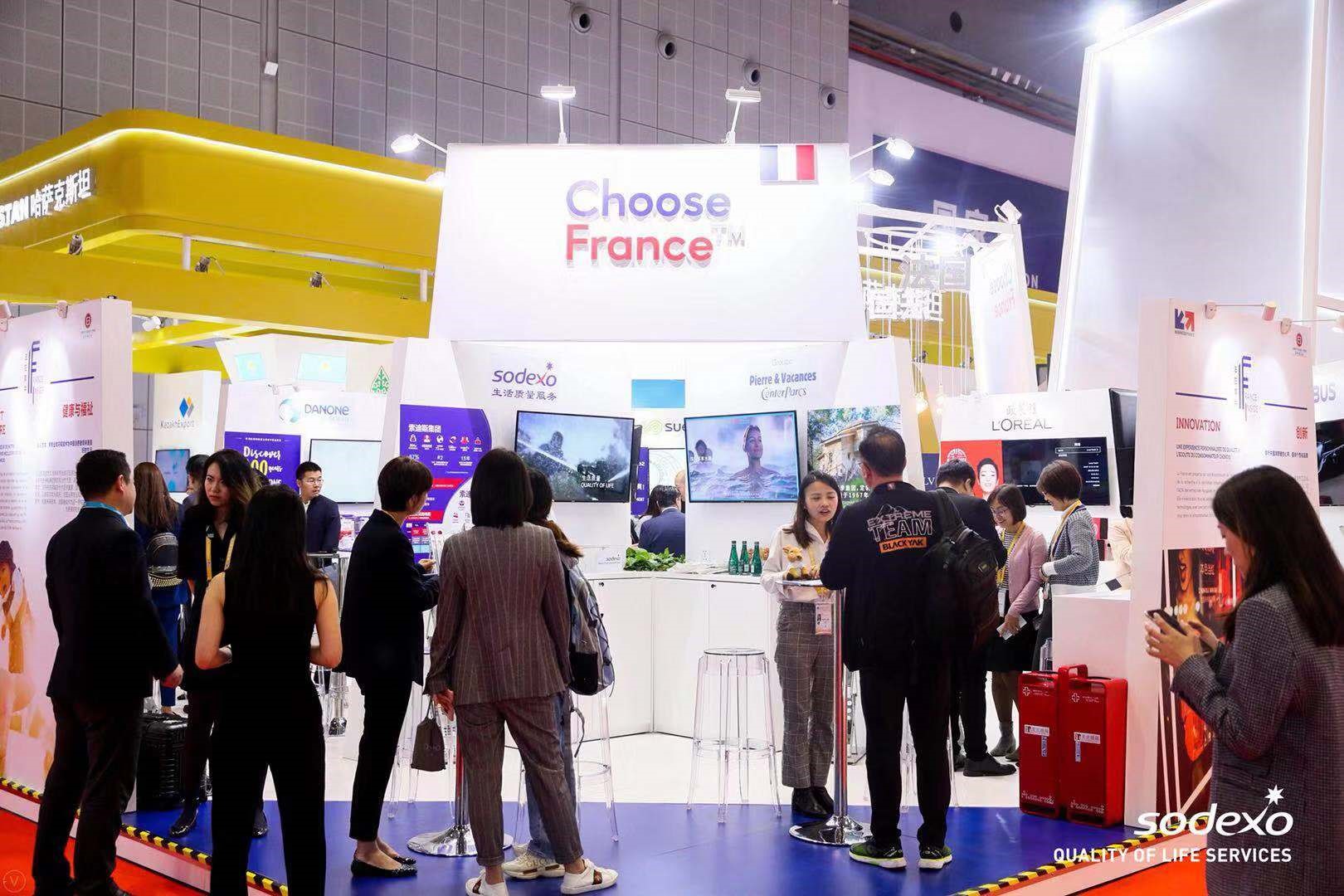 Sodexo joined hands with French Pavilion to showcase Quality of Life Services
Martin BODEN, President of Sodexo Greater China said: "Sodexo attended the first CIIE last year and it was very successful. CIIE is an important window for many foreign-funded enterprises to understand and explore the Chinese market. We are honored to continue to attend to CIIE on the occasion of the 55th anniversary of the diplomatic relations between China and France to present Sodexo's experience in globalization and local practice. Having exploring the China market for many years, we have witnessed the rapid economic development of China and Chinese people's increasing wishes for "a better life" under the circumstance of the consumption upgrading. We have full confidence in the future of the China market."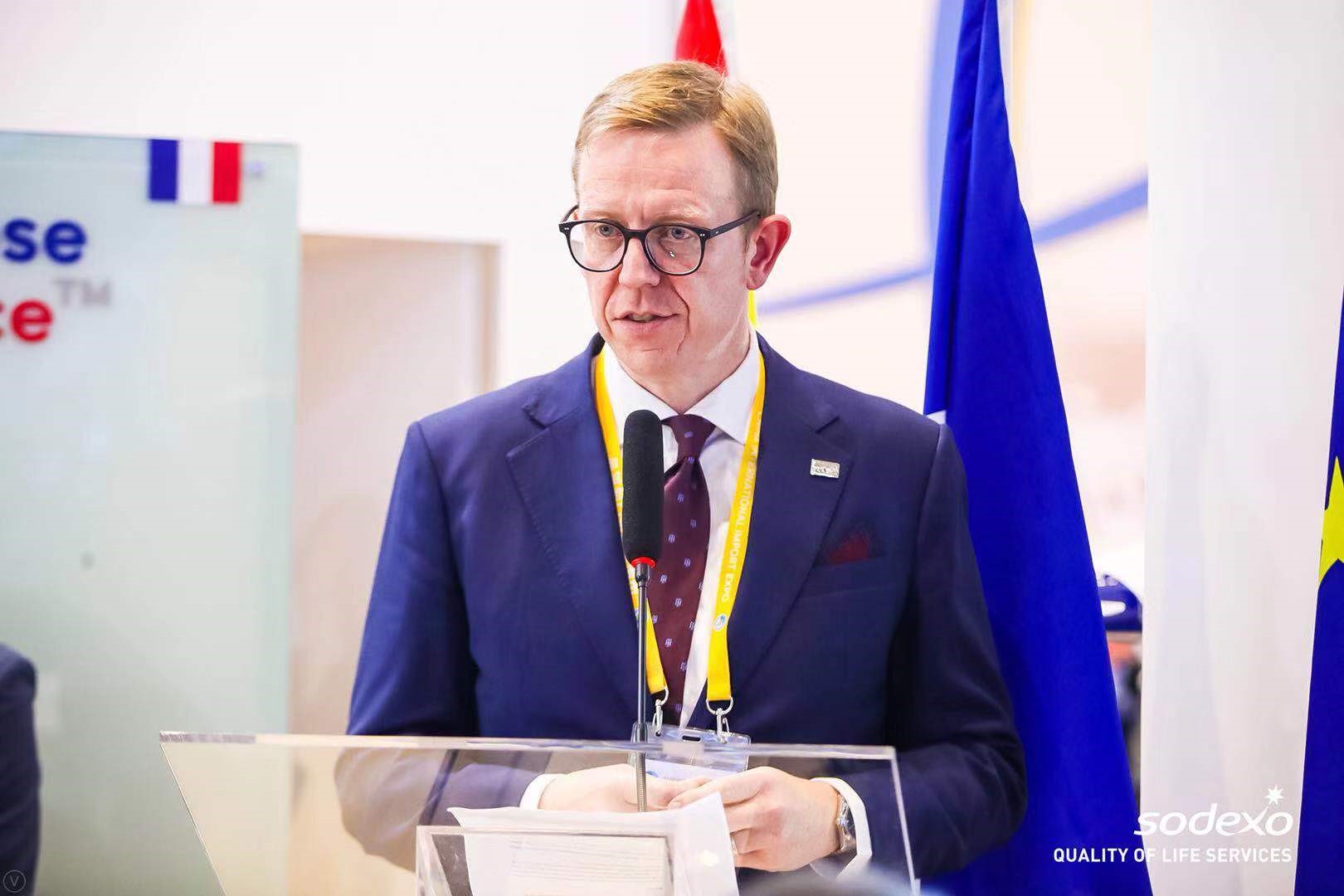 Martin BODEN, President of Sodexo Greater China, delivered speech in the French Pavilion Press Conference
Quality of Life services from France to China
In 1995, Sodexo signed its first service contract in Shanghai, starting its business in China and bringing the concept of outsourced services from France to China. In the field of integrated facilities management services, Sodexo is one of the first foreign-funded enterprises to invest and develop in China. With rich experience in globalization and previous local practices, Sodexo applies its Quality of Life services in a variety of areas, providing professional Quality of Life services to sectors ranging from corporate, education, healthcare and Sodexo Live! in a bid to help organizations and individuals focus on efficiency and improving performance.
Sodexo also witnessed and participated in the deepening of China's economic development and reform and opening up. Sodexo cooperated with a state-owned enterprise giant in 2004 to help deepen the reform of central enterprises and promote the separation of primary and assisting businesses. Meanwhile, Sodexo has established strategic cooperation with a number of Chinese private enterprises to support them going globally.
As the initial member of France-China Enterprises Council, Sodexo presented at the France pavilion, along with a dozen of other French companies, to showcase the positive contributions that French companies have made to the flourishing of China. French service - the pursuit of quality of life has become an integral part of the lives of Chinese consumers. During the event, Thomas OUDART, Vice President for Business Development, Sodexo Live! of Sodexo China, will also share Sodexo' French experience in organizing major sporting events, such as Roland Garros and Tour de France, at the French Sports Club Seminar.
Focus on consumer demand & deepen service innovation and transformation
Sodexo has been exploring China market for years, witnessing China's shift from a world factory to a world innovation center. Today's consumer demand is driving the digital transformation of the service industry. In 2017, China became the first country where Sodexo Group initiated a digital innovation and transformation. Sodexo combines its focus and expertise in traditional business services with innovative technologies and models. It greatly promoted the upgrading and transformation of traditional services, improved the Quality of Life and service experience of Chinese customers and consumers, helping build a better life for them.
Sodexo announced the first investment in China, known as AEYE-GO made by Sodexo Ventures, a strategic venture capital fund of Sodexo in the 1st CIIE. In August 2019, Sodexo Ventures announced its investment in Meican, a technology company in Beijing focusing on providing digital catering solutions to corporate customers.
Sodexo will showcase at the France Pavilion its innovative ecosystem for Quality of Life services, working to continually meet the changing needs of customers and consumers and to consolidate Sodexo' commitment to the Chinese market and consumers.
Fulfill corporate responsibility, reducing food waste with big data
As a leader in catering outsource, Sodexo announced at CIIE that it will gradually deploy WasteWatch system to prevent food waste in sites within 4 to 5 years.
The system, technically supported by Leanpath, monitors and prevents food waste by utilizing big data and can reduce food waste - during both processing and consumption- by 50% on average through targeted campaigns and "Clear Your Plate" campaign. Sodexo China is expected to deploy the system in more than 140 sites in the first round deployment of operations next year.
Food waste is an important challenge faced by the catering industry. It is reported that in 2015, 17 to 18 million tons of food was wasted on the dining table alone in China's urban catering industry, equivalent to one-year food for 30 million to 50 million people (Source: 2018 Food Waste Report of China's Urban Catering Industry).
The deployment of the food waste prevention system WasteWatch manifests Sodexo' commitment to corporate responsibility and sustainable development in China, advocates green and healthy consumption patterns and lifestyles, and contributes to China's food security.
Martin BODEN suggested: "China is an important market for Sodexo's strategy both globally and in Asia. Taking the opportunity of CIIE, we look forward to engaging in active exchanges and dialogues with more Chinese partners, exploring more opportunities for cooperation, working together to provide world-class innovative quality of life services to Chinese consumers, contributing to advancing the China-France comprehensive strategic partnership and helping to create a better future."