Shanghai China, November 8th, 2018 —— The 1st China International Import Expo (CIIE) kicked off on November 5th in Shanghai. Sodexo, world leader in Quality of Life services, presents at the Trade in Services Hall to engage with Chinese clients, consumers and partners for more collaboration opportunities.
It further announced its investment of AEYE-GO, a Chinese technology company which focuses on smart visual checkout systems through its strategic venture capital vehicle, Sodexo Ventures. The investment into AEYE-GO, will enhance Sodexo's renowned catering service capability, and demonstrate its commitment to elevate its quality of life services in China by bringing more intelligent experience to Chinese clients and consumers.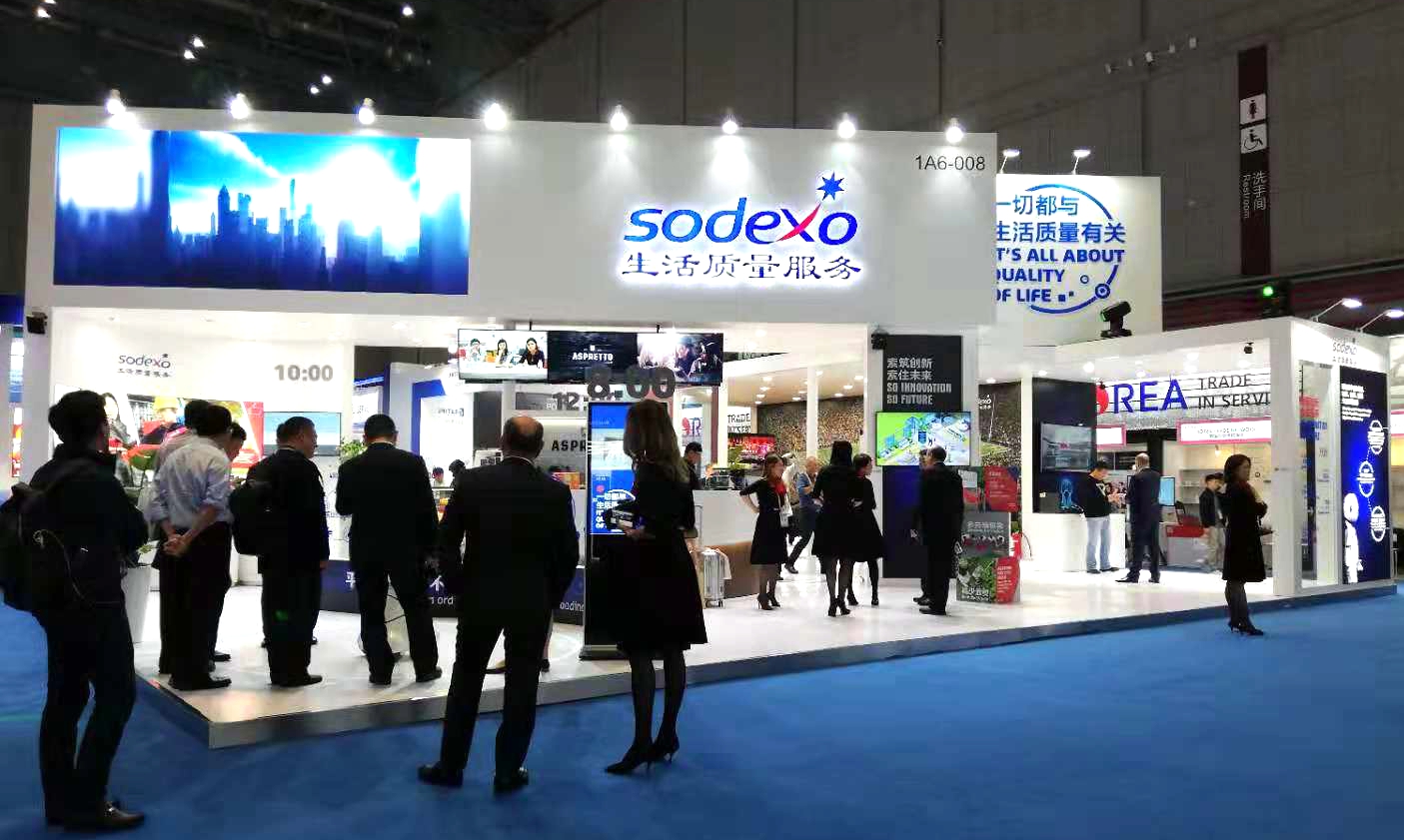 Sodexo presents at the 1st China International Import Expo
Belen Moscoso Del Prado, Chief Digital and Innovation Officer, Sodexo, said, "We are excited to announce our 1st investment in China with AEYE-GO through Sodexo Ventures at this special and significant occasion of the1st China International Import Expo. We hold the strong belief of combining the agility and creativity of innovative start-ups with Sodexo's strong fundamentals to build an innovative digital ecosystem together. We look forward to more partnerships with China's dynamic startups in time to come, with the aim in offering more value-added solutions to our clients and more intelligent experiences to consumers."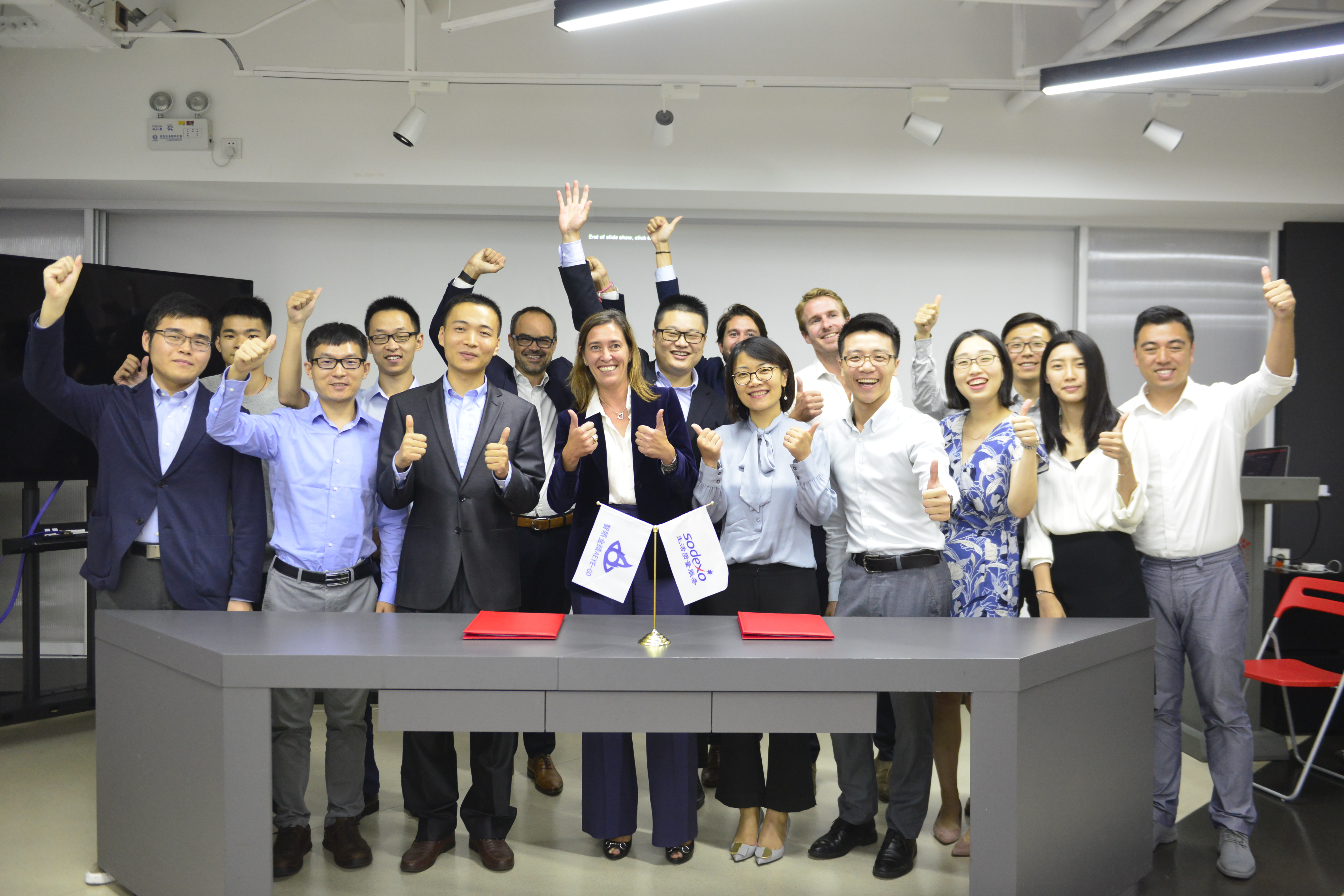 Sodexo Chief Digital and Innovation Officer Belen Moscoso Del Prado signed the agreement with AEYE-GO team
AEYE-GO, the AI payment solution that Sodexo Ventures has invested, is the world's first self-checkout system based on Artificial Intelligence image recognition technology, and will be one of the latest innovative solutions presented by Sodexo Digital Restaurant. Compared to traditional manual processes., AEYE-GO integrates the most advanced AI deep learning technology for food recognition, automatically providing the price and nutritional values with a quick glimpse of the food simply with a high definition camera. Garnering data, it will generate personal nutrition reports and for operation data analysis, which will help Sodexo optimize purchase procedures, reduce waste, promote efficiency and be more value-add. Most importantly, it will assist clients to optimize resource utility and enhance efficiency. Above all, delighting consumers' dining experiences to make it easy and delightful.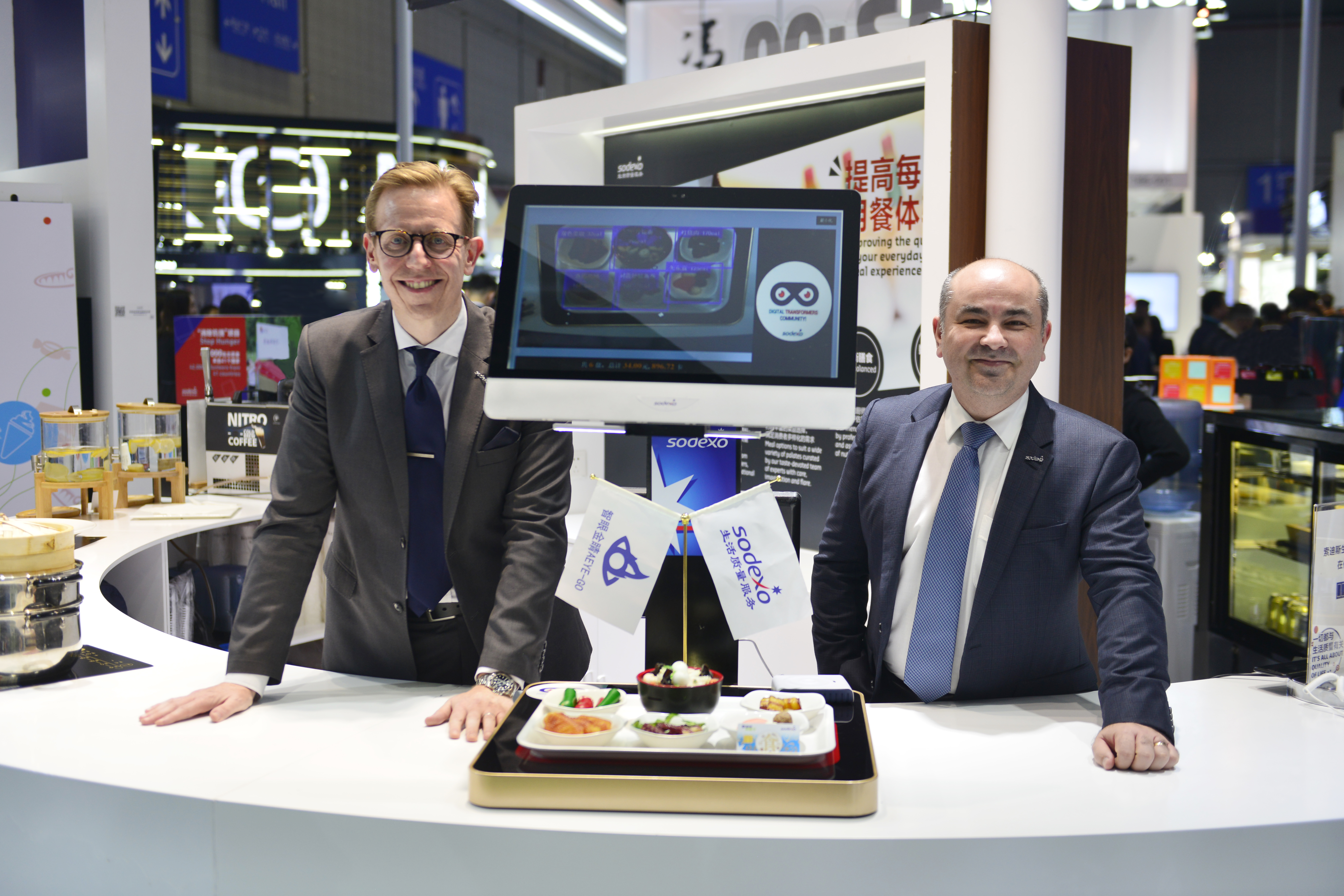 Johnpaul Dimech, Regional Chairman for Sodexo Asia Pacific(right), Martin BODEN, Sodexo China Country President (left) showcase the AEYE-GO self-checkout system at CIIE
Founding team of AEYE-GO, said, "As a start-up, we're honored to win the investment from Sodexo Ventures and have benefited from Sodexo's strong operation systems, global network and market intelligence to bolster AEYE-GO. Our vision is to build intelligent dining experience, which is consistent with Sodexo, the industry pioneer who has embarked on digital and innovation transformation journey. We hope our system will inject new vigour to Sodexo and bring a more exciting digital dimension of serving meals and elevating the dining experience."
Sodexo presents its 200 m2 booth in the Trade in Services Hall with theme of "An ordinary day with an extraordinary experience". It showcases its comprehensive "Quality of Life services" solution covering multiple aspects, and its leading digitalization and innovation outcomes, which combine Artificial Intelligence, IoT, Virtual Reality etc. to create immersive experience for clients and consumers as the modern integrated facilities management services.
Sodexo entered into the China market in 1995 when China's service industry just started. It spearheaded the module of "outsourcing service", which was rather mature in European & American markets. Its approach of "Think global and Act local" has gradually broadened its integrated facilities management service market. With a fundamental vision of "Quality of Life Services", Sodexo provides an integrated approach to On-site Services, Benefits & Rewards Services solutions across the corporate, education, healthcare and sports and leisure markets.
Martin BODEN, Sodexo China Country President, said, "CIIE has been a great platform to showcase our expertise and innovation in the quality of life services and connect us with more Chinese partners to collaborate with. And by working with them, Sodexo is committed to improving innovation and technology development to improve the quality of life services, thus to support in strengthening China's role in international trade in services."
---
About AEYE-GO
AEYE-GO is a startup that focus on computer vision and artificial intelligence technology in the institutional catering industry. At present, the company has realized technological resolution R&D and commercial availability, such as first generation tableware recognition system, second generation tableware + food recognition system, third generation food recognition system, and calorie healthy management system. Core technical members of the company are AI doctoral candidates from Shanghai Jiao Tong University, who have published papers on top AI academic summits, and won several championships from well-known contests such as "Global AI startups challenge" and "Google National mobile application competition". The vision of AEYE-GO is to build intelligent dining experiences to make meals delicious, healthier and enjoyable.