Beijing, October 26, 2017 - Sodexo, world leader in Quality of Life Services, attended Coliseum Summit ASIA PACIFIC at the National Stadium, popularly known as the Bird's Nest in Beijing on October 25-26.
Over 150 experts from the stadium and sports venue business around the globe, including Gui LIN, Director of Planning & Development Department, Winter Olympics Organizing Committee 2022, Jinhu FENG, Secretary General, China Sport Venue Association and Yue PENG, President of the Board, National Stadium (Bird's Nest), gathered at this China's first-ever international conference exclusive to stadium business, coming under a single roof to discuss the future of the sector.
This summit was hosted by Coliseum, a top name in international stadium conferences. Thomas OUDART, Vice President Business Development, Sports & Leisure, Sodexo China, as a speaker of this conference, provided Sodexo's perspective and solution to stadium operations, especially on the aspect of stadium movement and transition, in a case of Olympique Lyonnais, one of the best French soccer club.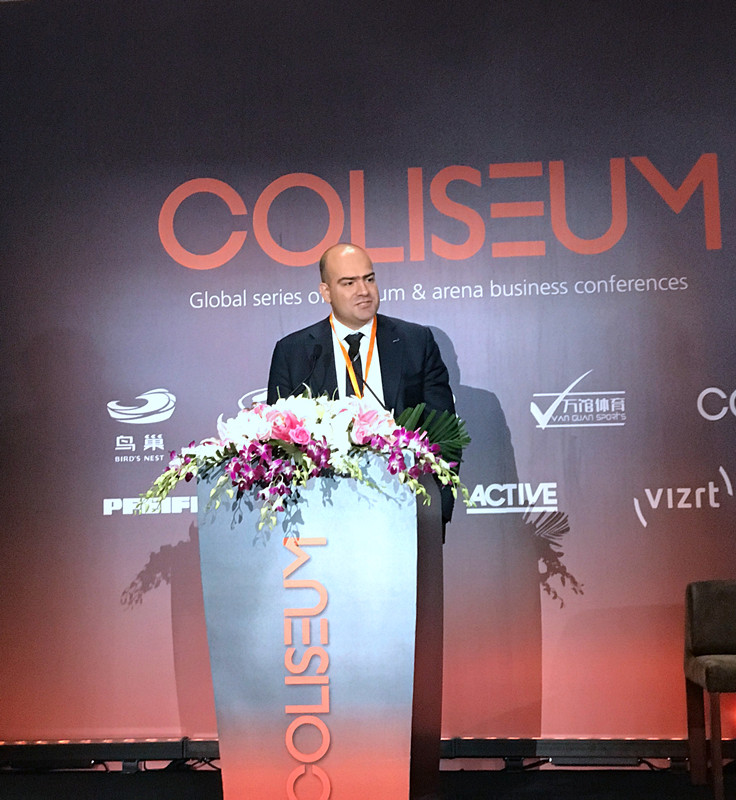 Thomas OUDART provided Sodexo's perspective and solution to stadium operations
Challenged with relocation of Olympique Lyonnais in 2016 to enhance the spectator experience, Sodexo explored and testified the consumer journey experience from arrival, pre-match to post-match, well designed the solutions, and managed the movement in 66 hours and overcome all operational issues to set up all points of sale including 25 concessions, 7 VIP lounges, 109 hospitality boxes and storage. The movement was statistically proved to be a successful one with 40% increase in the no. of spectators and 6 times higher annual revenue increase.
"As a strategic partner in managing unique venues and organizing world-class sports and cultural events, including the Olympics, Rugby World Cup, Tour de France and the Chelsea Flower Show, we have been delivering exceptional services that respond to the demands of exacting clients for more than 20 years." Thomas OUDART mentioned at the conference, "Sodexo hopes to bring our Quality of Life services to China's clients and bring fun experience to sports competition' spectators and cultural destination's visitors."
About Coliseum
Coliseum is a global series of stadium and arena business conferences, a sports venue news online-platform and an international publication dedicated to the various challenges of designing, constructing and operating of sports venues all around the world. It is the only global sports venues business summit with 5 dedicated stadium and arena conferences every year in 5 key regions in the world: Europe, US, Asia-Pacific, Middle East and Latam.