During the IFMA World Workplace 2018 China FM Conference & Exhibition on September 13-14, Beijing, Paula Cox, Sodexo Regional Account Director, as the joint presenter of Joyce Bi, GSK Global Service Performance & Development Director, presented keynote speech themed as "Balancing Technology & People in the Emotionally Intelligent Workplace" based on Sodexo 2018 Global Workplace Trends Report.
As one of the most prestigious industry events in China, IFMA World Workplace China Conference 2018 with the theme of "A New Era of Facility Management-Technology to promote FM Innovation!" gathered heavyweight speakers in facilities management related industries worldwide, and attracted industry peers from all over the Asia Pacific region.
Navigating evolving workplace
Paula Cox brought a brief of Sodexo's 2018 Global Workplace Trends Report with the three highlighted trends as The Internet of Things, Human Capital Management 3.0, and Creating the Emotionally Intelligent Workplace. "To make the ambition of better workplace reality, we, as the industry leaders, need to navigate the consistent evolving nature of work and workplace," Paula Cox said. She mentioned that technology like Internet of Things will immediately improve the employee experience with higher efficiency and productivity; however, the workplace complexity continues to rise and employee engagement remains low, the Human Capital Management 3.0 will bring the life experience with integration of employee's work, community and family lives; another way could be forging emotionally intelligent workplace, while emotional intelligence (EI) has become a core skill for high-performing organizations and outstanding leaders today.
Paula Cox, Sodexo Regional Account Director (left) &
Joyce Bi, GSK Global Service Performance & Development Director(right)
Emotionally Intelligent Workplace
The GSK case studies via the joint speech of Joyce Bi and Palau Cox demonstrated how to implement those trends based on the pain points of the organization:
The GSK Asia House, where Sodexo provided consultancy to GSK, value oriented by customized talent customer experience, integrates architecture space, technology, and functional service design, which followed by the change management, to create a BIG-data-driven workplace with flexibility for the future and embrace the social network.
The new customer measures give more interactive and optimal employee experience by managing customer expectation, actively communicating what we've improved according to customer feedback (You Said, We Did) and balancing experience and cost efficiency.
The integrated Internet platform allows stakeholders to align the technology strategies with service partners and enable organizations look the productivity as a whole.
GSK SMART initiatives, the consolidating guideline of workplace experience, consist of SMART Working, SMART Kitchen, and SMART Meeting focus on connectivity, community and flexibility, encourage greater transparency, teamwork, integration and refresh customer experience while reducing individual efforts. Developed by Sodexo with GSK globally, SMART Kitchen presents simple ingredients, visible resources, beautiful display and reduces waste, etc.
Joyce Bi stated: "Sometimes we did not realize the impact of FM is making today to enable our scientists and staff feel happier and more productive by providing a more engaging & efficient working environment, we are supporting GSK business that contributing directly to saving millions of lives in the future, that's a fantastic mission. It is very engaging for facility management to be a part of the mission."
The philosophy and the standard of service go all along with Sodexo's services delivering to GSK across 24 countries within 15-year relationship. Sodexo has worked with this healthcare giant in all aspects of the pharmacy business, with facilities management services and technical scientific services, rooted in the shared value concerning people-centric mission and improving Quality of Life.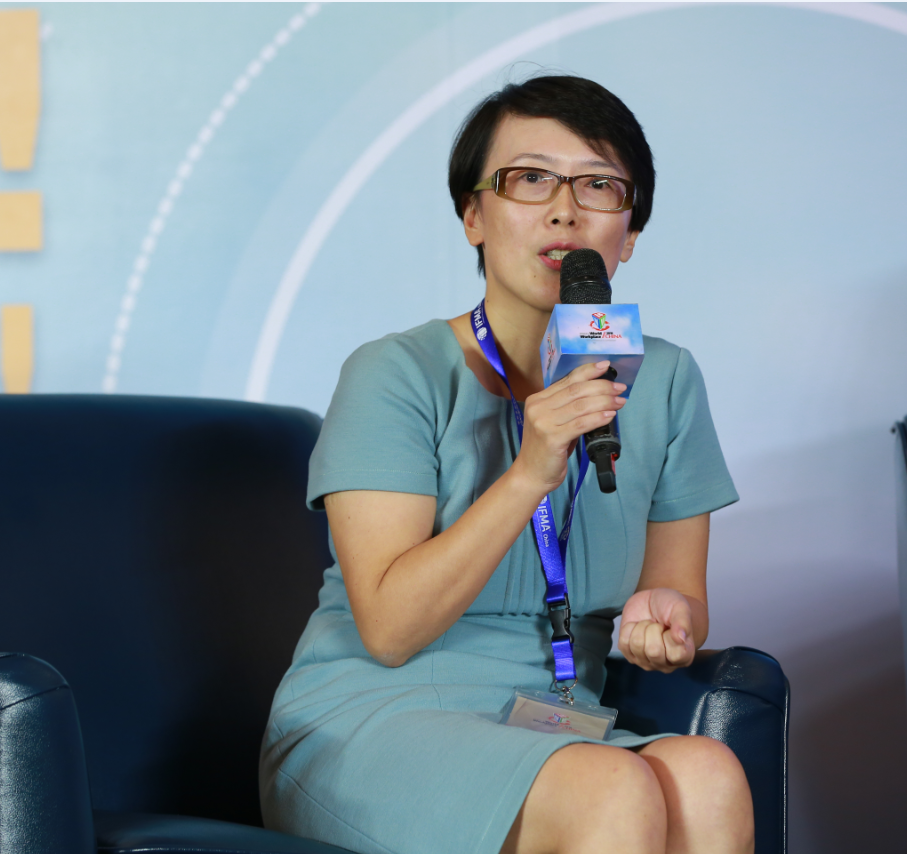 Jane YAN, Human Resource Director of Sodexo China
Put people first
As Jane YAN, Human Resource Director of Sodexo China addressed on the Panel Discussion on IFMA, themed as Talent Cultivation of the Facility Management Industry, "The challenge of talent development in the current facility management industry drive us to change from doers to thinkers, from delivering services to thinking about the value of services. As the new generation enters the workplace, we need to let them know the value of facility management, which should put people first from my point of view, because the value of facility management services is to help organizations attract and retain talents and improve individual's quality of life at their workplace, which will contribute to business goals achieving. "