Shanghai, China, September 1, 2017--Today, Sodexo, world leader in quality of life services, held a signing ceremony in Shanghai with JD Procurement for Corporate.
Sodexo will purchase its strictly selected food and non-food products via catering supply chain solutions provided by JD Procurement for Corporate, which will support its integrated services including catering services and facilities management services, in order to enhance user experience and quality of life for clients and consumers in China.
Currently, Sodexo has provided more than 100 services to 1.1 million consumers in 50 cities every day since its entry into the Chinese market for 22 years. "Our service nature and wide geographic coverage requires a strong supply chain management system that integrates resources from thousands of supply partners. The distinguished values of JD as comprehensive and efficient logistics distribution system, expansive business coverage area and strict product validation that are qualified through Sodexo's screening standard, drive the success of this partnership." Mauricio ZUAZO, Head of Supply Management of Sodexo Asia Pacific added, "I believe that as the leader of e-commerce and internet enterprises in China, JD's innovative solution will boost the better user experiences combining Sodexo's humanized and customized services at every single site we operate. "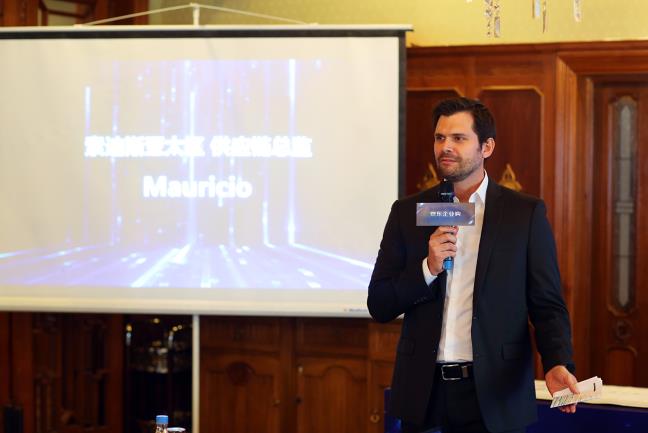 Mauricio ZUAZO, Head of Supply Management of Sodexo Asia Pacific gave a speech
At the signing ceremony, the delivery of the demo logistics orders which is customized for Sodexo by JD Procurement for Corporate was also completed, and the distribution process was also synchronous-presented on the venue through the interconnection. The order was placed by Mauricio ZUAZO on site and was successfully delivered to the Shanghai office of Sodexo China through the logistics distribution system of JD. This office is involved into the overall blueprint of Sodexo's integrated facilities management, which is not only the workplace for Sodexo staff, but also the extract and modeling site showcasing Sodexo's Quality of Life services.
FAN Lifeng, General Manager of Business Development, Key Account Department of JD Group, said that he had learned the concept "from limits to beyond limits" from the the design of Shanghai office of Sodexo, which happens to coincide with JD's perception on the whole retail industry. He said "the retail industry in the future will also be characterized of 'beyond limits'. JD had placed its positioning on retail facilities services vendor in the future. And supply chain for corporate is a major step in the construction of retail infrastructure, where logistics process could be cut down through the construction of corporate-end sorting center, supplemented by the whole digital procurement process to achieve point-to-point efficient delivery meeting the customized needs. This cooperation enables JD and Sodexo to build a closer partnership. Two sides are expected to achieve great success and a win-win result through advantages complementation."
FAN Lifeng, General Manager of Business Development, Key Account Department of JD Group gave a speech
Sodexo has initiated cooperation with JD since 2014 to provide their employees with wellness services in workplace and business support services, etc., which has been greatly strengthened and deepened by cooperation this time in supply management. To improve consumers' quality of life is the starting point of this partnership and thus Sodexo hopes to further this close cooperation with JD to continually bring more benefits for the society.
About JD
JD (JD.COM) is an e-commerce company with the largest revenue scale in China and also the largest retailer, JD provides consumers with excellent user experience through the user-friendly website (www.jd.com) with rich content and mobile client, WeChat and mobile QQ accesses. JD owns the largest logistics infrastructure and network among national e-commerce industry in China. As of June 30, 2017, it has already commanded seven major logistics centers nationwide, operated 335 large warehouses, covering 2,691 districts and counties across the country. JD is a member of the NASDAQ index 100 and the Fortune Global 500 companies.