Shanghai, China, December 1, 2016 – A medical delegation of Rhone-Alpes, France, accompanied by Grace Han, Segment Director, Healthcare, Sodexo China, visited Tongren Hospital Shanghai Jiao Tong University School of Medicine and received a warm welcome from Ms. Jun Ma, President of the Hospital, as well as her team on November 27, 2016.
The delegation is comprised of government officials and medical rehabilitation experts, including DUHAMEL Gilles, Inspector General of Social Affairs (France), BERETTI Renaud, 1st Vice Mayor of the City of Aix-les-Bains, HABOLD Daniel, President of the Association of Rehabilitation Savoie, POLLET Jean Michel, Director General of Gustave Rehabilitation Clinic, MENGUAL Patrice, President of Rhone-Alpes-China Exchange Association, and LAURENT Philippe, Secretary General of that Association, etc. This visit aims to strengthen the international cooperation between France and China in public hospitals and service partners, by means of exchanging the practical experience of public hospitals of both countries in service quality, discipline construction and talent cultivation.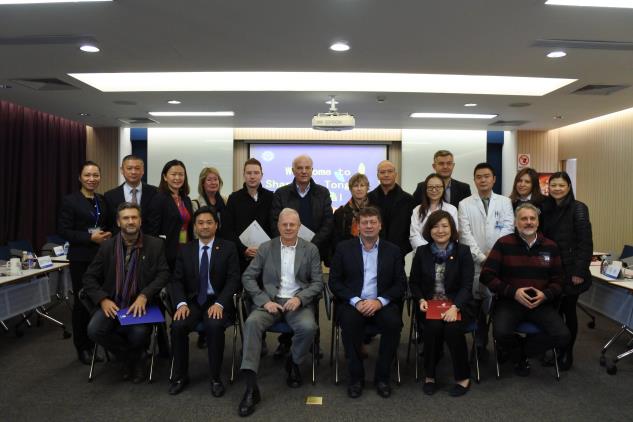 Group photo of the management team of Shanghai Tongren Hospital, Healthcare Team of Sodexo China, and the French delegation
Resource sharing – the value of partnership
Sodexo acts as the go-between of this visit. As the strategic service partner of multiple public hospitals in China, Sodexo not only aims to improve the quality of life of medical staffs and patients, but also expects to seek more international exchange opportunities for our Chinese clients through sharing our global resources and best practices.
"At Tongren Hospital, we have many outsourcing partners like Sodexo. We hope all of us can develop sustainably to share more resources." Ms. Jun Ma, President of Shanghai Tongren Hospital said, "As there are French rehabilitation experts in the delegation, this is a good chance to help us establish the rehabilitation department. I wish to introduce the foreign technologies and allow our doctors to go global."
Grace Han, Segment Director, Healthcare, Sodexo China stated: "In the health care industry, Sodexo is the logistics service partner of more than 4,000 large-scale hospitals worldwide. We are happy to bring more resources and value to our partners by promoting the international exchange and cooperation, talent development and discipline construction, as well as improving the influence of hospitals in the industry."
Amazing service ability of the Chinese public hospital
This visit happened to meet the 150th anniversary of the founding of Tongren Hospital. The French delegation was able to learn about the history of the Hospital and visit several key departments such as Informational Out-Patient Hall, Underwater Birth Room of Obstetrics, and Postpartum Recovery Center, etc. Knowing that Tongren Hospital possesses a team of over 1,800 medical staff, provides and manages 1,200 beds, and accepts 2.19 million patients annually, Mr. BERETTI Renaud said with emotion: "It is amazing that Tongren Hospital, a district-level hospital, boasts such a strong service capacity and a large professional team."
As for the Sino-France cooperation, Mr. LAURENT Philippe expressed: "We need to connect China and France around business, training activities and cultural exchange in the major areas of both countries, with Paris and Rhone-Alpes as the priorities, to realize dialogues in the same fields."
Both sides communicates at Sodexo's "Le Café"
Quality of Life means "to enjoy yourself at work and in life"
In the communication with key doctors of Tongren Hospital, Mr. DUHAMEL Gilles has asked for several times about the remuneration, development and annual clinical receptions of the doctors working at the Chinese public hospitals, demonstrating his concern about the quality of life under the Chinese medical environment. Just as Mr. LAURENT Philippe said, "I think the quality of life means to enjoy yourself at work and in life." By virtue of all-around catering services, Sodexo aims to help balance the work and life of medical staff at Tongren Hospital, and facilitate the recovery of patients.
After the academic visit, the French delegation also had a seat in the employee canteen and "Le Café" operated by Sodexo. The delegation highly recognized and appreciated Tongren Hospital's application of non-core business outsourcing concept as well as trendy and modern hospital building design. "I am happy to see the cooperation between Tongren Hospital and Sodexo, a company from our home country." said Mr. BERETTI Renaud.
About Shanghai Tong Ren Hospital
Shanghai Tong Ren Hospital developed originally from "Tong Ren Medical Bureau" which was jointly set up in 1866 by Rev. Elliot Heber Thomson, a churchman from Episcopal Church in the US, and Wu Hong, a Chinese pastor. On December 8, 2013, with the strong support of Changning District People's Government and Shanghai Jiao Tong University School of Medicine, Tong Ren Hospital integrated all the quality resources from two general medical institutions within the region, and established "Tong Ren Hospital, Shanghai Jiao Tong University School of Medicine". At present, Tong Ren Hospital consist of two branches respectively on Xianxia Road and Yuyuan Road, covering a total area of 61 mu, with 89.1 thousand square meters' building area, and 1200 authorized beds. In 2015, it received 2.19 million patients for outpatient and emergency treatment, 39 thousand inpatients, and 20 thousand surgical operations. The Hospital boasts three major departments for Shanghai including Digestive System, General Surgery and Imaging Intervention, and forms into featured subject clots for the diagnosis and treatment of digestive tract, metabolic, nervous system and neoplastic diseases. It acts as a center for medical treatment, prevention and healthcare within the region, and bears the responsibilities of offering emergency treatment for dangerous, acute and serious diseases, and preventing and controlling serious infectious diseases.
http://www.shtrhospital.com