Invited by the French Embassy in China, Sodexo China recently attended the 3rd France-China Senior Service Cooperation Conference. Grace HAN, Segment Director of Healthcare, presented at the Conference and discussed the progress of France-China cooperation on senior care with other representatives.
Held by Business France, the conference aims to consolidate and deepen exchanges and cooperation between corporations between two nations in senior care services. Heated topics were raised and discussed, including the development and promotion of the French model of senior care in China's market and senior home care. The conference attracted over 300 social organizations, brand institutions, and technology enterprises from more than 20 countries and regions.
During the round table session, under the topic of "The new stage of France-China partnership: cooperation and development on senior caring, Grace HAN had nice talks with representatives from other French companies and introduced Chinese industry operators, investors, and relevant government figures in social welfare about Sodexo China's operation experience on healthcare and senior caring, made answers to the questions brought up by the attendees as well.
As an international company with rich local operation experience, Sodexo entered the Chinese market in 1995. According to Grace HAN, Sodexo entered China's healthcare and senior care market in 2003 and provides integrated facilities management services for over 30 public 3A hospitals and large-scale units. Since 2010, Sodexo has launched a series of discussion projects on research and policy implementation regarding senior care organization, senior home care with training center of National Development and Reform Commission (NDRC), Society Ministry, national and local government and institutions of civil affairs.
Based on Sodexo's 15-year local operation experience in China's healthcare and senior care market, Grace mentioned that, "China's senior care services need innovation, to us which means backed up by our operation experience from mature market like Europe and America to make unique solution customized to China. This market needs to be further developed and we need to put more effort on policy inclusion and market planning to attract more talents. Sodexo, a French company with operation experience in 80 countries, has always positioned itself as 'an international enterprise with rich local experience'. We hope to introduce philosophy, experience, and technology of senior services to China, which is already mature in Europe, in an effort to further develop locally customized solutions. In that way we are trying to realize the goal of improving the quality of life for the consumers we serve; meanwhile, make contribution for the economy, society and environment development of the communities, regions and countries where our business are covering, which are Sodexo's ambition and strategy."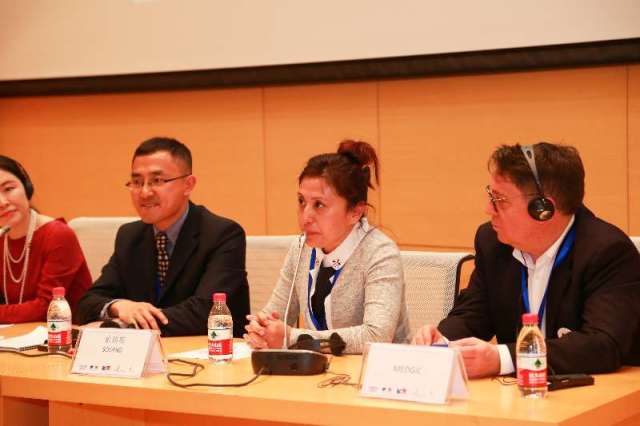 Grace Han, Segment Director of Healthcare, Sodexo China gave a presentation at
the 3rd France-China Senior Care Service Cooperation Conference
M. Jean-Maurice Ripert, the ambassador of France to China said that, "Today, we're gathering here to talk about how to avoid simply copying French experience and successful mode in China, and discuss with Chinese partners to bring up customized senior care service solution specific to China's market."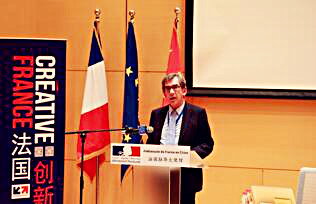 M. Jean-Maurice RIPERT, the ambassador of France to China delivering a speech
After the conference, Sodexo China attended the 7th China International Senior Services Expo (CISSE2018) at the China National Conference Center, introducing international philosophy on senior services and 15-year locally operation experience to Chinese market.