As a Quality of Life provider, Sodexo is always committed to a better life for people. What is Sodexo's focus? Would human services be replaced by Artificial Intelligence? Michel LANDEL, Sodexo Group CEO, gave his answer in an exclusive interview with Modern Weekly.
As the Global CEO of Sodexo, a service business giant, Michel Landel has adhered to the people-oriented concept. He is proud to support 420,000 employees. He thinks that artificial intelligence will never take the place of human care, and that morality will eventually converge with economy in the process of improving human's quality of life, which is the supreme expectation of our age.
What characteristics does he have as a leader on Harvard Business Review' s list of 100 Best-Performing CEOs in the World for two executive years?
Michel Landel, CEO of Sodexo Group, is modest and open-minded, which is our deepest impression of him. Probably due to the time difference and intense schedule that has made him tired, or the bad weather that has affected his mood, or his natural instincts, the helmsman of Sodexo as the 19th largest employer in the world as well as the largest employer in France seems to be a little serious. He doesn't even want to talk about his personal leadership, "The concept of leaders' power has meant nothing to me. I believe that the power belongs to our consumers and employees."
What do consumers and employees need? "They need to be cared." He said. Standing by the window of Sodexo Shanghai office, he overlooked the world-famous metropolis and stated, "The aging of world population, depletion of natural resources, crazy urbanization and unlimited urban sprawl – all these fundamental changes are changing our society in a dramatic manner. However, human progress should benefit people's quality of life. So what we are doing is to integrate these changes and trends into our strategy and services." To celebrate the 50th anniversary of Sodexo's founding, Landel made his personal appearance to China, one of its important markets, where Sodexo has grown in a two-digit rate in the past ten years.
Michel Landel is leading a unique company. In terms of single business, Sodexo is insignificant and ordinary. 50 years ago, Pierre Bellon founded the business by selling working meals. As of now, it is still Sodexo's important business to provide on-site catering services for clients. In terms of company size and covered sectors, Sodexo is great. It seems that there is no boundary for Sodexo's growth: Sodexo has 420,000 employees to develop its business in more than 80 countries; it not only provides services for enterprises, schools, Olympic Games and World Cup, but also offers catering solutions to hospitals, field mines, prisons, etc; it started with catering business, and later provided facility management services for enterprises; after seeing the difficulties of some families, it began to release housekeeping, childcare and senior services…
Sodexo ranks the biggest catering service company, the second largest service card company, the largest inland river pleasure boat and harbor service supplier, and the largest outdoor base service supplier in the world. From Sodexo's borderless and diversified business, we can see its efforts in improving the quality of life: it helped a school in Beijing solve the problem of filtering outdoor particulate matters while serving meals; it provided on-site services for a hospital in Huangshi, allowing patients there to enjoy comprehensive experience with their personal dignity asserted; it also customized a comprehensive work management system for a pharmaceutical enterprise in China, and added the car wash business incidentally as the scientist are found to be tense in time.
"I have witnessed the development of Sodexo in the past ten years. It feels like we have lived a thousand lives." said a Sodexo employee. Michel Landel considers the words a commendation to his diversification strategy. "We are playing a critical role in the ongoing social transformation. We have foreseen the change and offered diversified and specific services to drive the improvement of consumers' quality of life." Since 2005, when he began to manage Sodexo, the company's turnover has increased by nearly 70% in ten years.
Managing Sodexo is an ordinary but also extraordinary challenge. Due to its high degree of localization, Sodexo has to apply the "decentralized" management architecture, and delegate powers to its employees. Sodexo's employees are widely distributed geographically with education background from Primary to Doctor. The way Landel manages Sodexo is very simple: to equip each employee with corporate values and expertise. "It is a true miracle that every employee understands his or her job is about improving people's quality of life." Harvard Business Review stated that this is why Sodexo stands out of the industry where businesses compete fiercely in cost.
Diversification that will always be on the track
The 21st century is an age of Internet, entrepreneurship, VR and web celebrities. The post-90s generation wishes to engage in funny and fulfilling work in better environment, which reminds Michel Landel of 1960s which is also an exciting era when innovation, experiment, freedom and Twerk prevailed. To improve people's quality of life and spare more of their energy to changes, Sodexo was born to provide outsourcing services.
In 1966, Pierre Bellon, member of the Bellon family, founded Sodexo. Initially it provided small vessel supply service, which was the traditional business of the family. Later it gradually provided services for enterprises, schools, hospitals and other organization clients. One year later, Sodexo was invited by French Centre National d'Etudes Spatiales (CNES) to maintain the ground facilities of its space center in French Guiana as well as build and manage a hotel and small supermarket. This was a signal for Sodexo to unlock its path to diversification: If the client was satisfied with their services, it would be possible that the company's service business expand to industries they had not reached.
When Pierre Bellon was on a funny discovery journey, Landel was warming up for his philosophy of diversification. Landel was born in a big family in Morocco. His mother is a Russian and his father is a Frenchman, and they both are keen on traveling and discovering new things. "In my family, we always talk about traveling and other countries, which enables me to appreciate different things."
Michel Landel graduated from European Business School in Paris. He got his first job as Financial Analyst at Chase Manhattan Bank. Later he held posts at Ivory Coast in the UK and Africa. In 1984, he joined Sodexo Group as the Operation Manager of East Africa and North Africa. In 1989, with the passion for America, Landel went to America in charge of Sodexo North America business. Under his leadership, Sodexo became a leader in the North American market.
"From the perspective of business philosophy, I have firmly believed that the service industry can bring continual and stable growth to each economy. This is also why I have been committed to service industry for several decades." Landel said. He didn't make a mistake as service industry has always been one of the pillars for the sustainable growth of each economy. Presently, service industry accounts for up to 53% of the global GDP and 76% of the EU GDP. It is much more demanding for service in China, which is in the transition period. Along with the increase of wages, raw materials and land costs in cities, many companies have to consider new strategies, with an aim to maintain their competitiveness in China. It is an important strategy for them to outsource the services they need, which can help them focus on their core business.
In 2005, Michel Landel became the CEO of Sodexo. If we could say that Pierre Bellon founded Sodexo with diversification as its basis, it is Michel Landel who promoted the diversification with great efforts and made Sodexo a recognized leader in this area.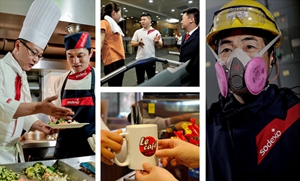 For many large enterprises, diversification is more like a trap rather than a tart. Quite a few enterprises have to peel it off as they have inappropriate integration and poor sales. When it came to this fact, Landel expressed that there were limitations with the diversified operation. "In the past ten years, we have realized global expansion and expanded our service business to different industries. However, in the process of expansion, we had to think deliberately about how to realize diversified operation in a proper manner." To keep diversification on the track, he has always followed four principles.
First, Sodexo would not easily set its foot in areas inconsistent with the current business model. Sodexo applies simple business model: in most cases, Sodexo's service business can be completed by only a single person or team, without investment in property or complex equipment.
Second, Sodexo only provides services that can instantly improve clients' quality of life. "In our view, improving the individual happiness and working efficiency within an organization is Sodexo's best practice in creating added value for clients." Landel divides the added value into six dimensions: Physical Environment, Social Interactions, Health & Wellbeing, Recognition, Ease & Efficiency, and Personal Growth. With clarified dimensions, the measurement of business performance is much simpler.
Focusing on personal quality of life can always reveal many unexpected connections. For example, Sodexo provided management service for the oil drilling platform and facilities in Siberia. People working in the remote area tended to be overweight or alcoholic. For this reason, Sodexo launched a portfolio program to help the employees there manage their diet and exercises in a better way. The program covered a wide range of services, which meant a big investment for the oil drilling company. However, after the program was put into practice, the absence rate of their employee was greatly decreased, the productivity improved, and the investment returned.
The third principle for Sodexo's diversification is that service portfolio must help clients implement their own strategies. For example, in order to help a major account move its office location from downtown Beijing to the suburb, Sodexo launched a plan to facilitate employees' commuting and established a "Health Program". After the relocation, the company's employee satisfaction increased from 84% to 98%, and employee turnover dropped from 12% to 8%.
The fourth principle is to control the business by itself. Sodexo's competitors are always growing themselves into prime contractors dealing with sub-contractors. But it is not the case with Sodexo. Sodexo delivers services by itself via recruiting capable, optimistic and aggressive employees, so as to control the quality of services delivered.
The rigorous and earnest personality of Michel Landel enable him to strictly comply with the four principles above. By virtue of the diversification strategy, Sodexo was able to strengthen its international influence and took the leading position among BRICS between 2005 and 2013. Sodexo was named Global Sustainability Industry Leader by "Dow Jones Sustainability Index" for executive 11 years.
Irreplaceable services
In recent years, Michel Landel was often asked that: will artificial intelligence squeeze the living space of Sodexo? Indeed, robots are replacing people in some of their work, which has already become an undeniable fact in the manufacturing industry. Recently, the White House released a report named "Artificial Intelligence, Automation and the Economy". In the report, it is believed that 9% to 47% of people's jobs will be threatened in 10 or 20 years to come. Based on this trend, 6% of the job opportunities will disappear every three months. And employees who have low wage, low skills and low education level will be under most severe threat from automation.
To this, Michel Landel responded, "I think robots will never take the place of people. The reason is that people are always in the very central position of all services and business we operate."
On the contrary, he considered this is an opportunity. It is undeniable that technology frees up people's hands in terms of the basic work. Sodexo is also applying more and more robots to some tasks such as cleaning and work in kitchen. Actually Sodexo has applied some emerging technologies to many links of the service. For example, it understands and forecasts consumers' expectations through social media and big data; it simplifies the dining and transaction links through online payment and booking; and it even improves the productivity and efficiency through intelligent management system, online work arrangement system and remote monitoring.
Relative to technology, Landel hopes people to focus more on caring humans and improving their quality of life. People's emotional and interaction needs cannot be met by robots, so it is destined that many service-related jobs will not be replaced. The best example is Sodexo's Dementia Care service in the USA. This service is totally based on emotion rather than logic. In the USA, Sodexo employs about 7,000 nursing employees offering this service.
"From the perspective of a service supplier, the value and profession of services depend on the mental efforts, empathy, care, creativity, judgment and emotions in other regards input by people offering the services. And these emotions are exclusive to human beings." Landel said. As for the future, he asserted that Sodexo team will continue to grow stronger as more and more new services will emerge in the future.
Under the diversification strategy, Sodexo has launched in-home senior care and childcare services in Europe and America. Landel hopes that these services can made their presence in China in the future. "Based on the current trend of population change, China is entering an aging society. Therefore, more and more people are becoming focused on the elderly. Looking after children is also growing into a general need. We are studying the possibility in this regard."
People are always the topic that Sodexo cares most, and also the core competence of Sodexo as a service enterprise. As the 19th largest employer in the world, Sodexo was born with an important mission, that is, to prove the possibility of establishing such a social model that can promote the continuous development of employees and improve their quality of life. And the contributions that Michel Landel has made are that employees become more professional and the company becomes more inclusive.
The service industry has a relatively lower entry threshold, but it is difficult to keep a continual and stable commitment. In order to improve its competitiveness, Sodexo has conducted quantitative analysis and research for its services and established talent development plan.
In the long-term practice, Sodexo has summarized a lot of efficient and cost-saving best practices, bringing benefits to its clients. Sodexo's offer is much lower than the client's cost in undertaking the work. The standardization of these best practices can clarify their points of profit and facilitate the global knowledge transfer. Therefore, Sodexo invested and established a high-quality team of experts to strengthen the on-site training and guidance about the lean management, Six Sigma and other key tools and processes, help the operation teams recognize and avoid waste during operation and business processes, and optimize the frameworks of each site and the company.
Diversification and inclusiveness are the foundation of Sodexo's people-oriented strategy. "According to our internal research, a gender-balanced team performs better than an unbalanced team from the perspective of economics." Landel said that he had always paid attention to the gender balance among Sodexo employees. He also launched the mentorship program, aiming to support female employees in developing in the operation management teams. In China, 37% members of Sodexo senior management team are females, and females account for 65% of all Sodexo China employees.
Landel knows his great responsibility as he manages 420,000 employees. "Owning a job doesn't only mean making money, especially in the service industry. It also means gaining the sense of being, making contributions to the society and being proud of supporting a family, as well as paying the tuition fee for children and bearing the medical costs."
He believes that morality will eventually converge with economy in the process of improving human's quality of life, which is the supreme expectation of our age.
Q&A:
Q: Sodexo is a large and unique company. How would you evaluate it in brief words?
A: Indeed, Sodexo is a unique company. We aim to improve the quality of life, and we take the leading position globally in offering quality of life services. This is also how we position ourselves all the time.
Q: Artificial intelligence is developing rapidly, and many people think that robots will replace most humans to work in the future. Will this be a threat for Sodexo?
A: I don't think this is a threat for us. On the contrary, I think this is an opportunity. Indeed we are using more and more robots now. In the process of our performing business, there are some simple tasks that can be completed by robots, such as cleaning and some work in kitchen. We would use robots on our own initiative, but I think robots will never take the place of people. The reason is that people are always in the very central position of all services and business we operate. From the consumer perspective, people require to interact emotionally and physically with others, while robots cannot meet such requirement. We need people to serve people as we are people.
Q: Compared with other industries, what are the features of Sodexo in terms of innovation?
A: To survive and develop, Sodexo has never stopped innovating. We innovate in a different way from product manufacturers or retailers. The latter might have their own R&D centers to allow some of their researchers and market surveyors to develop new products. What we have is a consumer research team whose task is to create appropriate tools to learn about consumer needs and measure their satisfaction, so as to find chances for innovation and improvement. Besides, all of our "scientists" come from our on-site teams, so each of our solutions is unique and exclusive. When we realize innovation on one site, we are able to duplicate these best practices to other sites in a timely way through our sharing platform, exclusive business improvement team as well as our leadership team committed to innovation and best practice sharing.
Q: As the CEO of Sodexo, what are your philosophies of operation and business?
A: From the perspective of business operation, we stick to the localization principle. An enterprise like us is more about localized operation. We apply the decentralized architecture, so we enable local teams to drive the operation of the whole enterprise. From this perspective, all of our employees providing local services possess entrepreneurship and aggressiveness. On the whole, we are applying the delegating and decentralized architecture of operation.
From the perspective of business philosophy, I have firmly believed that the service industry can bring continual and stable growth to each economy. This is also why I have been committed to service industry for several decades. At Sodexo, we firmly believe that people is the key to success for every enterprise. Improving each person's quality of life and keeping them happy and work effectively will directly influence the individual and corporate performance.
Q: What is your motto of life?
A: I think that the world we live in needs more balance. To achieve a more harmonious and balanced society and world, we should put people in the center no matter what we do.