Belen Moscoso Del Prado, Chief Digital and Innovation Officer of Sodexo, said in the interview by IT Times that Sodexo has outlined three steps for digital innovations in Chinese market, namely optimization of existing services to facilitate business growth, looking for new profit growth points and development of new business models.
This article was published on IT Times by journalist DING Xiaodong.
It is increasingly inseparable from robots and artificial intelligence in people's work and daily life. As long as you keep an eye on it, you will find the traces of AI in every city and every industry: the 24-hour ATMs, the credit machine in supermarkets, the metro ticket vending machine, the employee timesheet machines, which have changed people's life and working habits.
Seven trends highlight the direction of workplace evolution
This year, in Sodexo 2018 Global Workplace Trends Report, seven interrelated trends were explored and a unified theme was proposed: the need for collective intelligence in all workplace. The report reveals Sodexo's seven workplace trends, including:
Getting Ready for Gen Z: Gen Z have a higher expectation for technology and flexibility, and pay close attention to wellness and quality of life, they are reshaping the workplace for everyone in new and exciting ways.
The Internet of Things-Shaping the Future Workplace: The "Internet of Things" offers immediate improvements to the comfort, flexibility and accuracy of physical environment, thus qualify of life individuals will be enhanced, which bring positive effect to performance for both individual and corporates.
Creating the Emotional Intelligent Workplace: Emotional intelligence has become a core skill set for high-performing organizations and outstanding leaders today. In fact, workplace itself can work by coordinating basic human needs and motivation, and fully mobilizing the individual's all-round emotions to realize emotional intelligence.
Re-imagining Resources in the Sharing Economy: Forward-looking organizations are redefining their business models to take advantage of sharing economy.
Moving the Needle on Gender Balance: To create a gender-intelligent workplace, companies have to investigate factors which hinder women to further promote, and implement culture transformation driven by inclusive leadership.
Human Capital Management 3.0: Human Capital Management (HCM) 3.0 integrates all the different technologies and projects (learning, recognition, and wellness) to transform work experience into life experience. HCM is designed to enhance employee experience and help organizations get the best out of it.
Employees: New Change Agents for Corporate Responsibility: When designing a corporate responsibility strategy at present, employees are key stakeholders. Companies must give employees the opportunity to speak, making them feel satisfied while working towards a better future for all.
As a world leader in Quality of Life services, Sodexo provides clients an integrated offering developed over 50 years of experience: from food services, reception, maintenance and cleaning, to facilities and equipment management; from services and programs fostering employees' engagement to solutions that simplify and optimize their mobility and expenses management, to in-home assistance, child care centers and concierge services.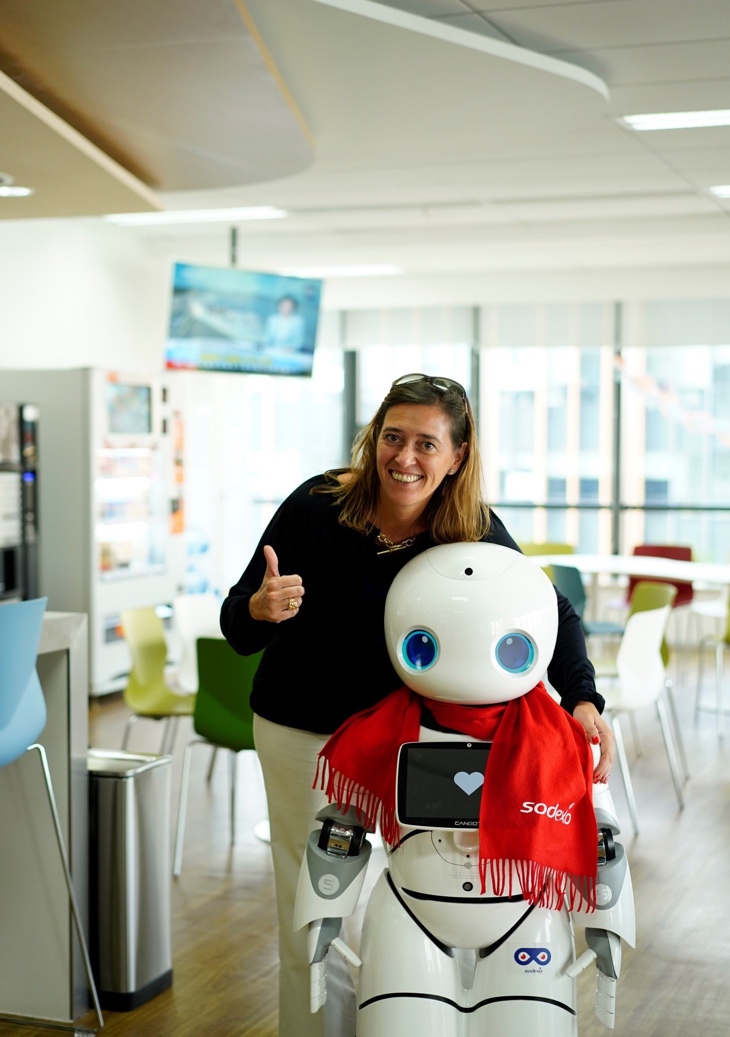 How does Internet of Things get involved in work?
According to Belen Moscoso Del Prado, Chief Digital and Innovation Officer of Sodexo, Internet of Things is now catching growing attention, not only in workplace, but also in personal life, which can improve work efficiency and consumer satisfaction as well. She believes that the global service industry will be changed due to the development of Internet of Things. At the same time, by analyzing the relevant data, Sodexo can grasp consumer needs more accurately and provide customized services.
When IT Times journalist visited Sodexo Shanghai headquarter, it is obviously to see many intelligent control systems, such as smart workplace or meeting rooms control platform.
How does Internet of Things work? Sodexo provides facilities management services in China, mainly using sensors to build IoT. Sodexo integrates it into consumer life, for example, uses digital facilities to make visitor registration process more efficient, make use of IoT to book meeting rooms, etc. When start the meeting, you can also take advantage of technology to satisfy own needs, and save energy for workplace by smart control.
Belen mentions there are still many aspects that can be optimized and improved in workplace. Internet of Things can be utilized to maintain the service facilities in the entire building more effectively. Without any installation of new hardware, just some sensors on the original hardware can work.
To achieve further development of IoT, innovation must be the stakeholder. Belen introduces that innovation element is everywhere in Sodexo. As new technologies grow at an even faster speed, Sodexo always holds open attitude towards innovation. For example, they are trying to cooperate with some incubators and startups. For now, the collaboration with innovation incubator XNode goes well and some digital and innovation projects are under incubation.
In addition, Sodexo has set up its own venture capital fund Sodexo Ventures to help startups innovate. They will provide supports for these startups with funds, client resources, and international platforms to get a win-win result.
In China, on the one hand, Sodexo cooperates with incubators and startups to incubate some projects to feed Sodexo service capability expansion; on the other hand, as Sodexo has business all over the world, different new technologies are experimented in different territories and the successful ones will be promoted to the globe.
Sodexo China Digital Innovation "Three-Step" Strategy
Talking about Sodexo's digital and innovation strategy on China market, Belen introduces that Sodexo is currently still in the exploration process, and now the strategy is defined into three steps:
The first step is to optimize existing services to facilitate business growth. For example, right now Sodexo provides digital restaurant solution. Consumers can use mobile phones to view menu, place orders, learn the meal nutrition information, check occupancy/queue status. When consumer enters into restaurant, intelligent robot will guide and serve, and other digital services like wireless charging table are also offered to improve consumer experience.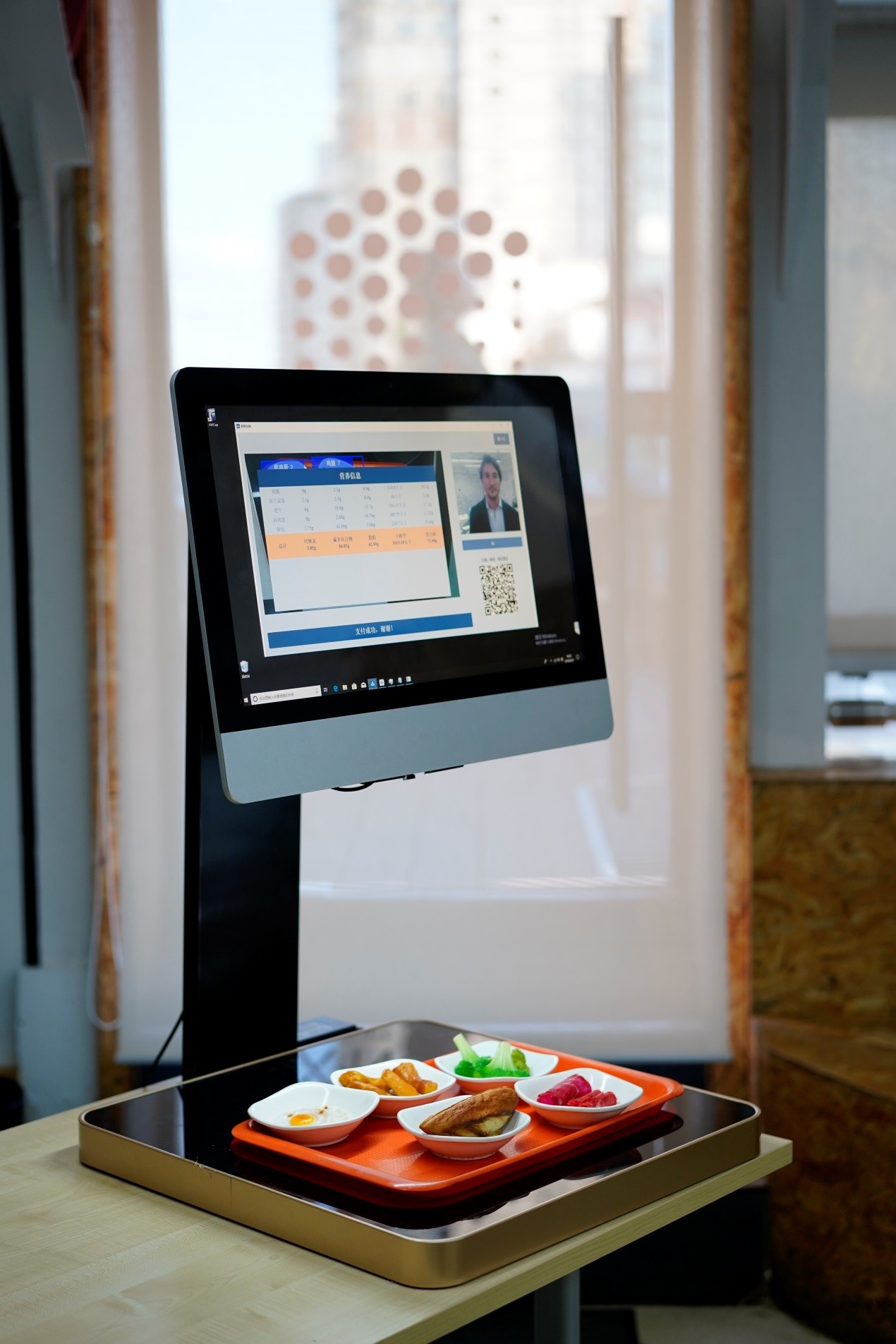 The second step is to look for new profit growth points. People are tending not to work in an environment looking like a traditional office. In the future, Sodexo digital solution will be used to build a brand-new community, where employees may find some new ways to work rather than restrict to the office, and better make the company culture a heritage for all.
On the foundation of above first two steps, Belen says that the third step is to develop new business models, which is equally important. Sodexo is a company providing integrated facilities management services. With Internet of Things, more intelligent workplace will be created. They've had been undertaking some projects and will continue to develop more solutions.
Another focus for Sodexo is how to improve the equipment when work at home, such as providing general technical and catering support for staff who works at home. By integrating the resource, Sodexo will make ample resource available for people work individually or together. This makes it possible that employee can do single projects, or change the way they work instead of face-to-face because company tools and resources are also offered at home.
Digitalization Enriches Services
Belen believes that digital is a new way to communicate with consumers. Company can take advantage of digital to measure consumer needs and use digitalization to enrich services. Sodexo has its own data processing center and will do data analysis concerning consumers. For example, by statistics analysis on catering, Sodexo can grasp consumer needs more targeted.
Digital and innovation enables Sodexo to better understand the consumers as well as their needs, and then to come up with suitable solutions to satisfy.
When it comes to challenges digitalization brings, Belen believes that there are two aspects. Firstly, digitalization originates from technology while company serves people. Positioned as "people-centric", Sodexo has to further think about how to make use of technology to improve people's quality of life. Another one is concerning the speed, which is the key of innovation. Speed can help Sodexo to consolidate the leading position, stand out and make a better ecosystem centering on comprehensive quality of life.
On data security in this Internet of Things era, Belen points out that Sodexo values data protection. Europe has carries out GDPR (General Data Protection Regulation), the most strict data protection law in Europe, under which circumstance Sodexo has set up dedicated Data Protection Officer to supervise and will always attach great importance on data protection.