Guangzhou, April 19, 2023 -Sodexo, the global leader in Quality of Life Services, successfully held its annual supplier conference in Guangzhou under the theme of "Concerted efforts leading to a long journey while win-win cooperation achieved by mutual trust".
where Sodexo brought together representatives from more than 80 key suppliers to explore the construction of a smart supply chain and a blueprint for high-quality development. Martin Boden, President of Sodexo Greater China, delivered a video message.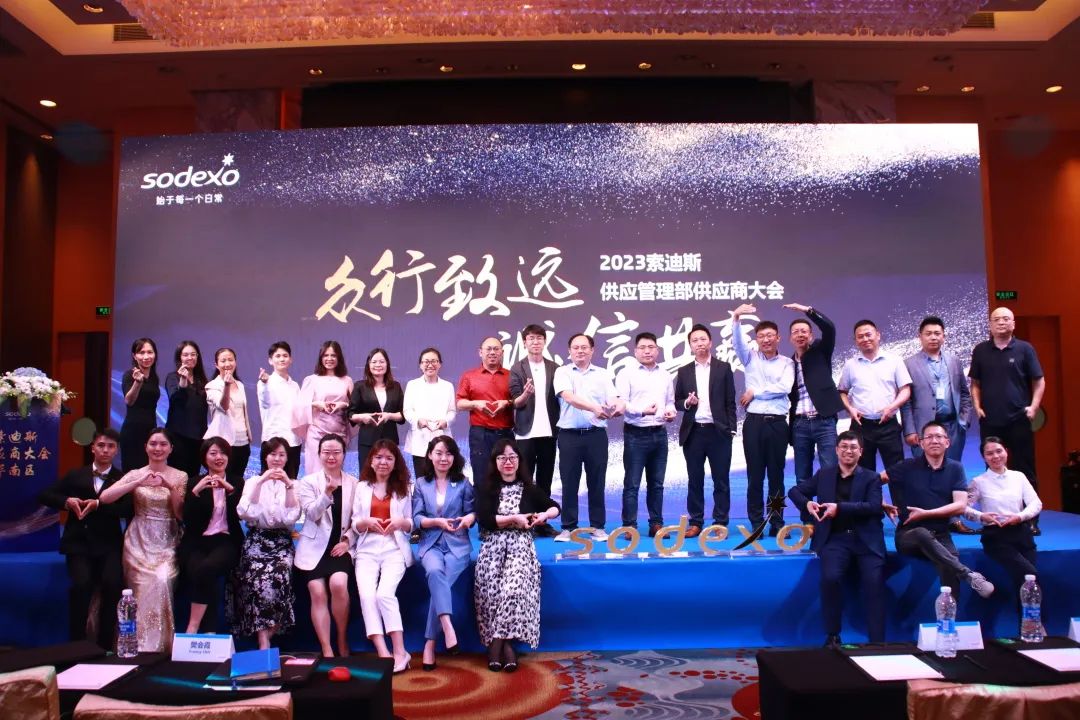 Sodexo's Supplier Conference 2023 was divided into two sessions. Firstly, it was a three-day seminar on supplier strategic development, where Sodexo communicated closely with nearly 50 major suppliers nationwide on quality management, cost optimization and project innovation, guiding suppliers to develop in a comprehensive way among in-depth cooperation, thus laying foundation for better fulfillment of their commitment to providing quality services to customers in the future; then, it was followed by a themed conference titled "Concerted efforts lead to a long journey while win-win achieved by mutual trust", which not only reviewed the sound cooperation between Sodexo and its suppliers during the COVID-19 epidemic, but also looked into the future of building a win-win cooperation ecology with mutual trust. The conference concluded with the recognition of partners who made special contributions to the development of Sodexo's supply chain in 2022.
In his speech, Martin Boden expressed his thanks to the partners who have been supporting Sodexo for long, and shared his views on how to build a competitive supply chain system with Sodexo's characteristics in the post-epidemic era against unfavorable macroeconomic conditions and complex business environment.
Compliance is the foundation of Sodexo's business development, and we hope our partners will continue to follow Sodexo's supply chain management standards.
Sodexo will establish a strategic supplier management system and build stronger partnerships with key suppliers across the country through constantly refining supplier management.
Innovation and sustainability have always been the key of Sodexo in pursuing progress, and we hope to work together with all suppliers to build a new smart supply chain ecosystem that is safe, efficient and green.
Since suppliers' performance is crucial to Sodexo's customer satisfaction, we hope to enhance close cooperation between Sodexo and our suppliers. We will continue to improve supplier capabilities and management norms through supplier empowerment and management, thus helping improve Sodexo's overall competitiveness and achieve the goal of win-win cooperation.
The competition between enterprises is all about competition between industries, especially that of supply chain management. In the past few years, Sodexo has faced a number of unfavorable factors such as the complicated and changing economic situation both at home and abroad, and the repeated outbreak of COVID-19 epidemic, however, as a saying that goes, "those who do the right will not be alone, and concerted efforts lead to a long journey", Sodexo and its quality suppliers actively seized development opportunities by keeping innovation with an open mind and cooperating with each other to achieve win-win. All above efforts have made Sodexo "go up against the current" and finally achieve healthy and rapid business growth.
During the conference, Sodexo presented 4 awards to suppliers with excellent performance in 2022, that is, the Best Innovation Award, Best Service Award, Supplier of the Year Award and Best Cooperation Award, which fully showcased that Sodexo's and its supplier partners embraced new opportunities and conducted deep cooperation in the fields of products and technologies to build long-term strategic partnership featuring trust, mutual growth and win-win.
Sodexo held the conference with an aim to embrace new market opportunities, look forward to the future of the industry and build a more efficient, safe and innovative supply chain system with all suppliers in the new situation, thus providing better services to customers and consumers through strategic development of the supply chain and business cooperation.
"We feel pleased to gather with representatives from various suppliers across the country to share advanced experiences and innovative ideas. We firmly believe that through closer collaboration, we can provide better services and continue to meet the diverse needs of our customers. This supplier conference is part of our long-term commitment to working with suppliers to facilitate collaboration and improve service quality. Sodexo will continue to uphold the spirit of openness, inclusiveness and cooperation, and join hands with all suppliers to constantly create more value for our customers," said Fan Huixia, Director of Supply Chain Management, Sodexo Greater China.