20 August 2019 / BEIJING, CHINA – Sodexo, the global leader in Quality of Life Services, made two major announcements today to further demonstrate its leading position in digital and innovation within the industry.
Sodexo announced a major investment through Sodexo Venture, its strategic venture capital vehicle, in Meican, a Chinese technology company focused on digital food solutions in the corporate environment, and a comprehensive service group featuring technology, innovation and entrepreneurship, 36Kr, which strengthens Sodexo's commitment to the China market by building a quality of life service ecosystem in conjunction with Chinese partners.
"We at Sodexo are passionate about improving quality of life, and that means continually evolving our business to ensure we are anticipating our clients' and consumers' needs," said Martin Boden, Sodexo China Country President. "These two partnerships will further strengthen our ability to provide an ever-expanding array of client needs and consumer experience, and we also look forward to working with our Chinese partners by bringing unique offers to a wider stage, in China, but also to the rest of the world."
These partnerships form part of Sodexo's commitment to improving quality of life for its clients and consumers, which impact from six core dimensions: physical environment, health & well-being, social interaction, recognition, ease & efficiency, and personal growth. Further, they augment Sodexo's broad range of service offerings, including food services, facilities management services, including engineering services, lifestyle services, scientific services and business support services, elevating and complimenting these to create a more complete Quality of Life proposition for an ever-changing client and consumer base.
A New Comprehensive Business Model in Food Service with Meican
The investment and partnership will enable Sodexo to build a new food model to complement its current business model, through an integrated digital platform to bring innovative offers to clients with a Single Point of Contact. It will enhance the consumer experience by digitalizing our on-site restaurants and expanding their dining options from on-site digital enabled food court, strong brands from Meican's affiliates, on-site food delivery and offsite dining in nearby restaurants. It will also help Meican to expand its business footprint in China with Sodexo's geographic reach.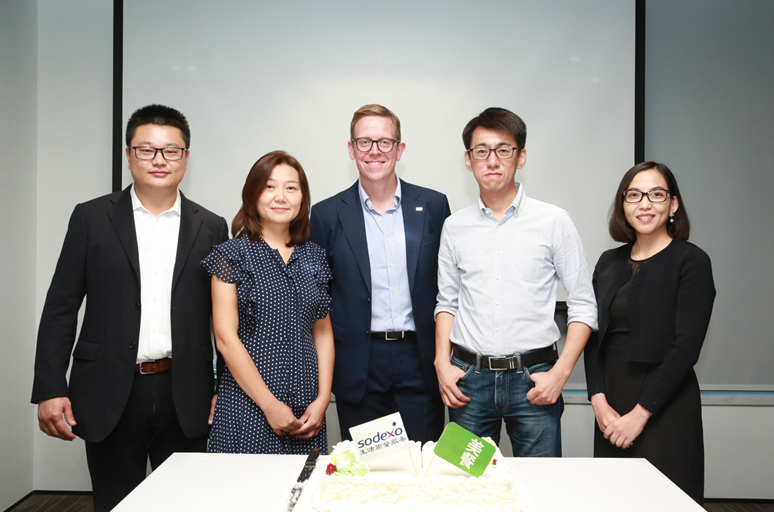 Martin Boden, Sodexo China Country President (Left3)&Xiao Zhao, Co-founder and CEO of Meican(Right2)
"The partnership with Meican will continue to develop and enhance our food services across China. With broadened touch points from online to offline, we will be able to better serve our clients and consumers and enrich the consumer experience in this rapidly evolving market. We are delighted to continue our progress through this investment, and retain our strong commitment to bringing quality of life services in China," said Boden.
A Strategic Incubator Partnership with 36Kr Group
Sodexo's partnership with 36Kr will concentrate on scouting and mentoring for high-potential local startups in the innovative catering and facility management space. Sodexo will provide a platform for these startups to reach a wider audience, while the startups will contribute toward the expansion of Sodexo's quality of life services.
Cheney Guo, Digital and Innovation Director at Sodexo China, commented: "Innovation is in Sodexo's DNA, and China is one of the countries that leads the world's technology change and digital transformation. We're seeing so many disruptive innovations happening here in China. We're excited to work with innovative startups here through our strong partnerships with local and international incubator partners to bring these innovations to a bigger stage, as this strongly positions us to further innovate our offer in Quality of Life Services for clients and consumers."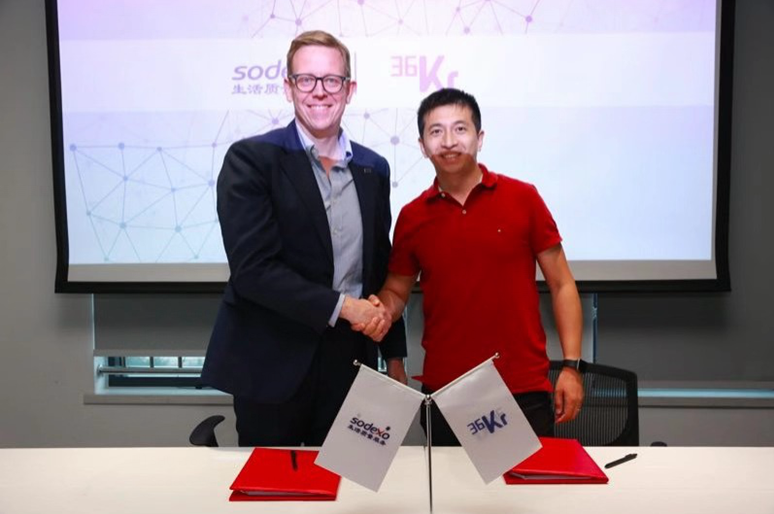 Martin Boden, Sodexo China Country President(Left)& Steven, Vice President and Partner of 36Kr(Right)