Shanghai, February 10, 2022 – Sodexo, the world leader in Quality of Life Services announced that it has completed the acquisition of Shanghai TOPMED Medical Equipment Management Co., LTD – a healthcare technology maintenance company in China.
This acquisition enhances Sodexo's global leadership in healthcare technology management and expands its service scope and capabilities in Greater China. It is proof of Sodexo's strong commitment to the China market.
Healthcare Technology Management (HTM) plays an important role in improving the diagnosis and recovery rate of diseases. This in turn enhances the comprehensive competitiveness, social benefits and financial outcomes for medical institutions. With advances in technology, newer techniques and innovations can be applied to HTM to further improve medical outcomes as well. Strengthening HTM is therefore indispensable in the operations of medical institutions and an important component in managing modern healthcare systems.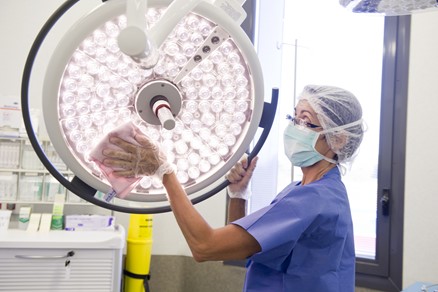 As the global leader in healthcare integrated facilities management, Sodexo, through its HTM services, supports healthcare teams by ensuring that medical equipment is available and in top condition when needed. This is enabled by a comprehensive asset management system that leverages on technology which helps our clients to improve both clinical and financial outcomes.
Shanghai TOPMED Medical Management Co., LTD (TOPMED) was founded in Shanghai in 2010 and is dedicated to providing comprehensive lifecycle HTM solutions to healthcare institutions.
By leveraging new innovations in HTM and internet-enabled technology, TOPMED has created a mobile, intelligent equipment management platform that underpins its full lifecycle medical equipment management solutions. TOPMED's business scope includes comprehensive medical equipment operation management, regional integrated equipment operation management, and is a trusted service solution provider for medical institutions.
(Third from Left: Leo Chiang, Founder and General Manager, TOPMED. Fourth from Left: Martin Boden, President, Sodexo Greater China)
After joining Sodexo, TOPMED will be a subsidiary under the management of Sodexo China's Healthcare Segment. Mr Leo Chiang, the founder, will continue leading the TOPMED team as the General Manager.
Leo Chiang, Founder & General Manager, TOPMED, said: "TOPMED's vision is to be an innovator, change-maker and leader in the field of HTM. These same values bring TOPMED and Sodexo together. As a subsidiary of Sodexo, by combining the strengths of both teams, TOPMED will expand our client group and provide them with even better service and experience."
Martin Boden, President, Sodexo Greater China, said: "We are pleased to welcome the TOPMED team to the Sodexo family. It will empower us to build on our own service capabilities in China by integrating TOPMED's rich experience in technology and operations and thus, provide more diversified services to our clients and consumers in China. We will also leverage TOPMED's expertise to accelerate our business growth in China."
Grace Chung, CEO Healthcare, Sodexo Asia Pacific, said: "We are glad to welcome TOPMED to the Sodexo China team. With TOPMED's deep experience in HTM in China, Sodexo will further enhance our position as a global leader in HTM. This also allows us to expand our service offerings and capabilities in China and the Asia Pacific region and lead to improved benefits and efficiencies for our clients in the healthcare sector."
Marc Plumart, CEO Health & Care Worldwide, said: "Sodexo is well known for the value of our HTM services. With a global view, we are able to share best practices and define a higher level HTM service for all of our clients. We welcome TOPMED to help expand our HTM expertise and leadership around the world."