Sodexo: Solid Q1 Fiscal 2020 revenue growth
Revenue growth of +7.1%
Organic growth at +3.8%
Strong Rugby World Cup contribution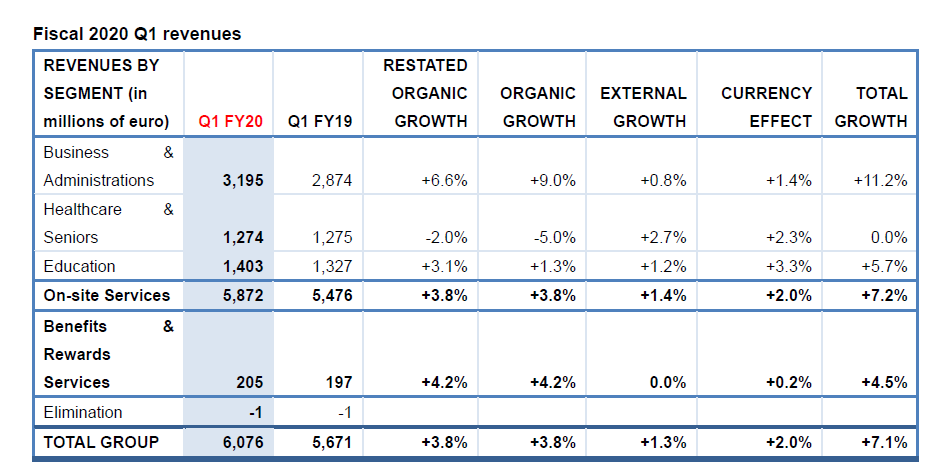 Commenting on these figures, Sodexo CEO Denis Machuel said:
"Revenue growth in the first quarter remains solid with a very successful Rugby World Cup which offsets the impact of contract losses and a decision to exit a Healthcare contract in North America.
With renewed management teams in North America, strong outsourcing trends in developing economies, continuing growth in Europe and rigorous implementation of our action plans to enhance productivity and reinvest in sales, marketing, digital capabilities and innovation, we are confident that we are on the right track."
Highlights of the period
First quarter Fiscal 2020 revenues grew +7.1%, with organic revenue growth at +3.8%, in line with the trend in the previous quarter.
On-site Services organic revenue growth of +3.8% was also in line with the previous quarter.
Acquisitions, net of disposals, contributed +1.3% to growth linked to the ongoing effect of last year's acquisitions in Corporate Services, Education and Homecare.
The Rugby World Cup in Japan was a successful contract. Sodexo designed, developed and marketed a range of innovative offers, creating memorable experiences for rugby fans. Working with a local partner, Sodexo sold 190,000 tickets and 60,000 hospitality packages to fans from over 100 countries around the world.
On-site service
Outside North America, representing 55% of On-site Services revenue, organic growth was +8.3%, due to the contribution of the Rugby World Cup, continued growth in Europe at +3.3% excluding the event, and double-digit growth in Africa, Asia, Australia, LatAm, Middle East, as the outsourcing trend accelerates particularly in Brazil, China and India.
In Africa, Asia, Australia, Latin America, and the Middle East, organic growth remained strong at +13.2%, despite an ever higher comparable base, resulting from the opening of several new School and University contracts in China, Singapore and India.
Outlook
The Group is continuing to identify additional Fit for the Future initiatives to generate SG&A savings. This will complement operational productivity due to enhanced discipline and STEP (our performance management framework) implementation. These savings will continue to be reinvested in accelerating growth.
As a result, for Fiscal 2020 the Group is expecting:
Organic revenue growth of around 4%, including the major sports events.
Stable underlying operating profit margin for the year, excluding the currency impact and any impact from the IFRS 16 implementation.
Mid-term, the Group aims to deliver market leading profitable growth. Current Group investments, activity mix and geographic presence provide us with the opportunities to capture this growth. Sodexo is capable of accelerating organic growth over the years to come while ensuring a sustainable and inclusive business model.
As organic growth increases, growth investments will be kept under control, so that the effects of enhanced discipline and efficiency gains will feed margin expansion.
Known as "Olympic Games for the military", the WMG is a multi-sport event for the armed forces, organized by CISM (Conseil International du Sport Militaire/International Military Sports Council) since 1995. The 7th MWG, which ran from Oct. 18 to Oct. 27, is one of the most important international sports events China has hosted since the Beijing Olympic Games. The MWG in this year will see the largest number of competitions ever participating, with over 300 events and 27 disciplines.