Recently, the 12th China Food and Beverage Industry Development Conference and the 40th Anniversary Conference of Reform and Opening-up of China's Catering Industry, hosted by China Cuisine Association and China Economic Net, etc. ended successfully in Beijing.
Sodexo, world leader in Quality of Life services, was awarded as "2017 Gold Medal of China's Top 10 Catering Brands", which is the third consecutive year that Sodexo has been listed on "China's Top 10 Catering Brands". In addition, on this special year of China's 40th anniversary of Reform and Opening-up, Sodexo's contribution to China's industry is well recognized as "International Brand with Outstanding Contribution".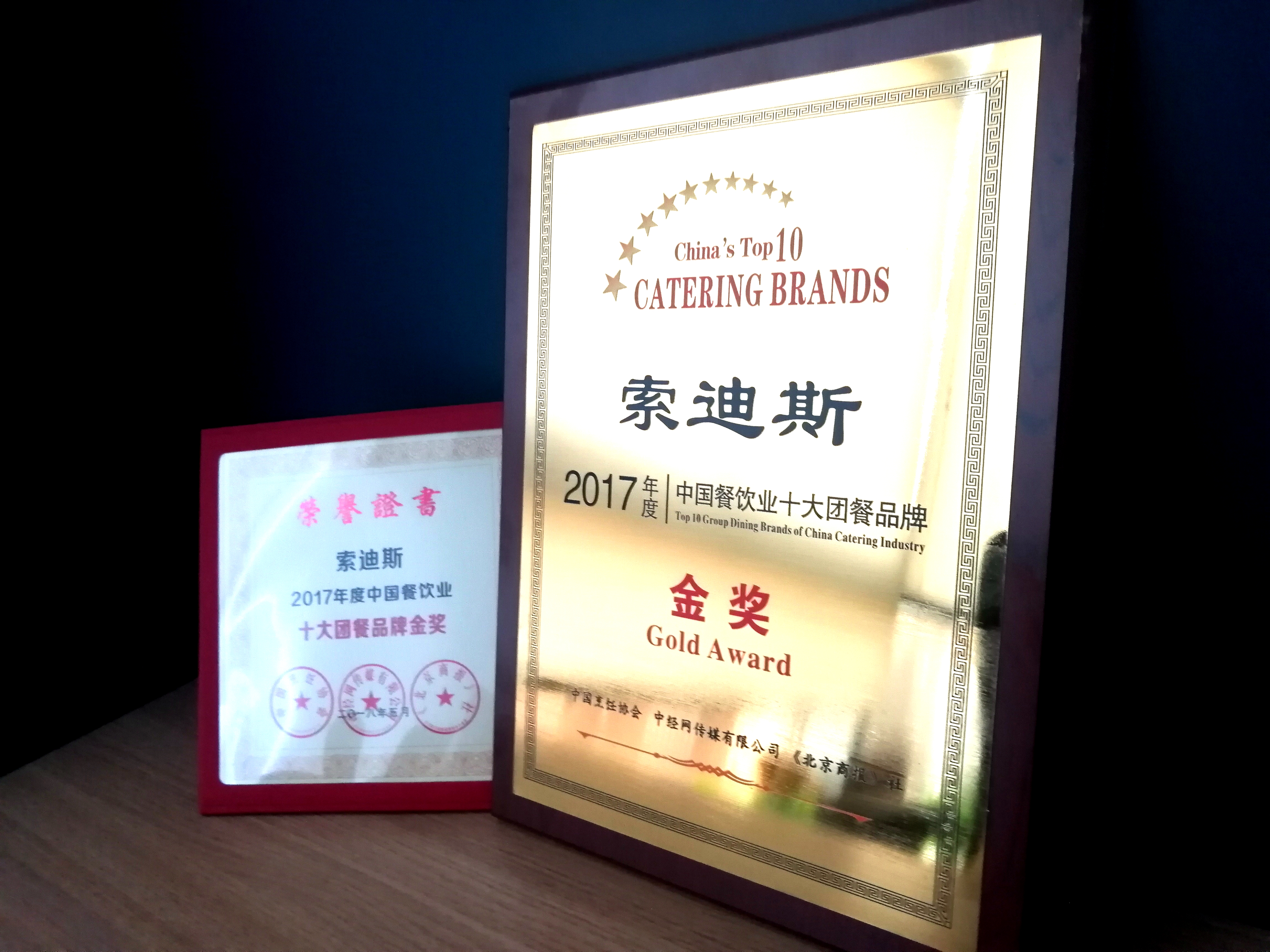 Sodexo awarded "2017 Gold Medal of China's Top 10 Catering Brands"
Benefited from Reform and Opening-up, Grow with the Market
Sodexo entered China's market in the 1990s, brought high-quality services and advanced managerial philosophies to China and introduced outsourcing model from Europe and American market which was already mature at that time. Ever since then, Sodexo founded in China and has been growing with the market. Backed up by its international catering service expertise, Sodexo developed customized catering solutions: U Shan, Joy+, Le Café, Be…, Aspretto, Think Green, La Cantine, etc., based on insight of differentiated consumer needs and service experiences in diversified workplaces. Specific to the segmented market, Sodexo worked out a patient nutrient meal solution, U e+, which is an IT management system initiative tailored to China's hospital patients; and launched "Eatwell Plate", "Food Traffic Lights" and school nutrition guidance menu, specially for schools and universities to deliver nutrient-balanced meals meanwhile actively taking the responsibility to enhance nutrition awareness.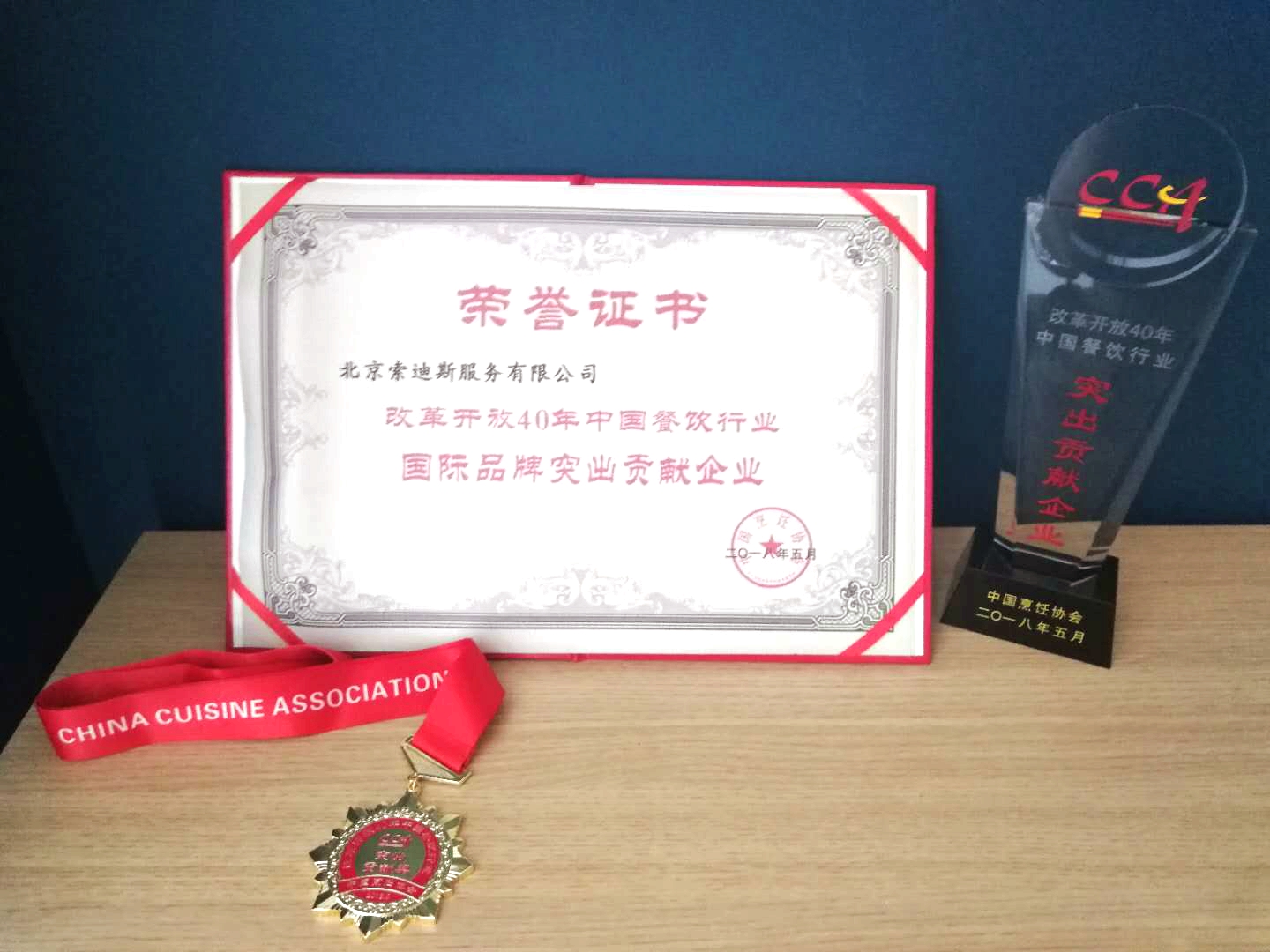 Sodexo awarded "International Brand with Outstanding Contribution -
40th Anniversary of China's Reform and Opening-up in Catering"
Put Forth Effort on Catering Transformation, Exert Service Innovation
Leveraging multinational innovation resources accumulated over 50 years across 80 countries, and more than 20 years local experience in China's market, Sodexo puts forth effort on catering transformation in this new age to push further quality of life to a new stage.
In 2017, Sodexo China became the first unit to deploy digital transformation strategy as a country in the Group and officially launched its digital transformation journey. A fundamental innovation eco-system has been set up via fostering internal digital and innovation culture, cultivating innovation-mindset of employees, and exploring cooperation opportunities with external start-ups. The partnership with incubator XNode has been a milestone, following series of innovation programs prototyped and implemented into practice, including VR safety kitchen training, service robots, FM services app, and food services app, etc.
Attach Importance on Corporate Responsibility, Make Contributions to China's Society
Since 2015, Sodexo began cooperation with China Youth Development Foundation and launched Sodexo Hope Kitchen program, which has benefited over 130 chefs and managerial staff and more than 30,000 children from 60 schools under Hope Kitchen program in Guangxi and Hubei.
Meanwhile, Sodexo joined hands with local disabled associations to provide career opportunities for the disabled and has employed over 90 disabled people, while offering free barista training to enable their career.
To reduce food waste, "Clear Your Plate" program was piloted to cultivate consumers' saving awareness while use the funds saved to facilitate the education of hope schools in rural areas. It shows very positive engagement with 1938 consumers joined and 176kg food waste saved per day per site. In 2018, the activity is being widely deployed in Sodexo China to continuously "Waste Less and Hope More".