We have seen people pulling together to help in every city, state, and country around the world. And, while it's our job to help, to make the quality of life better for each and every person we serve, we see everyday heroes emerge in surprising places and in every part of our business.
Here are the ways our heroes - everyday individuals - use their skills, supplies, and business structure to go the extra mile for those who are putting their own lives at risk to combat the virus in all four corners of the earth.
Dark kitchens light up … to feed those in need
Heroes may not be intubating someone urgently, they may be a school cook who couldn't rest quietly at home. A hero never gives up, even if they can't work as they used to.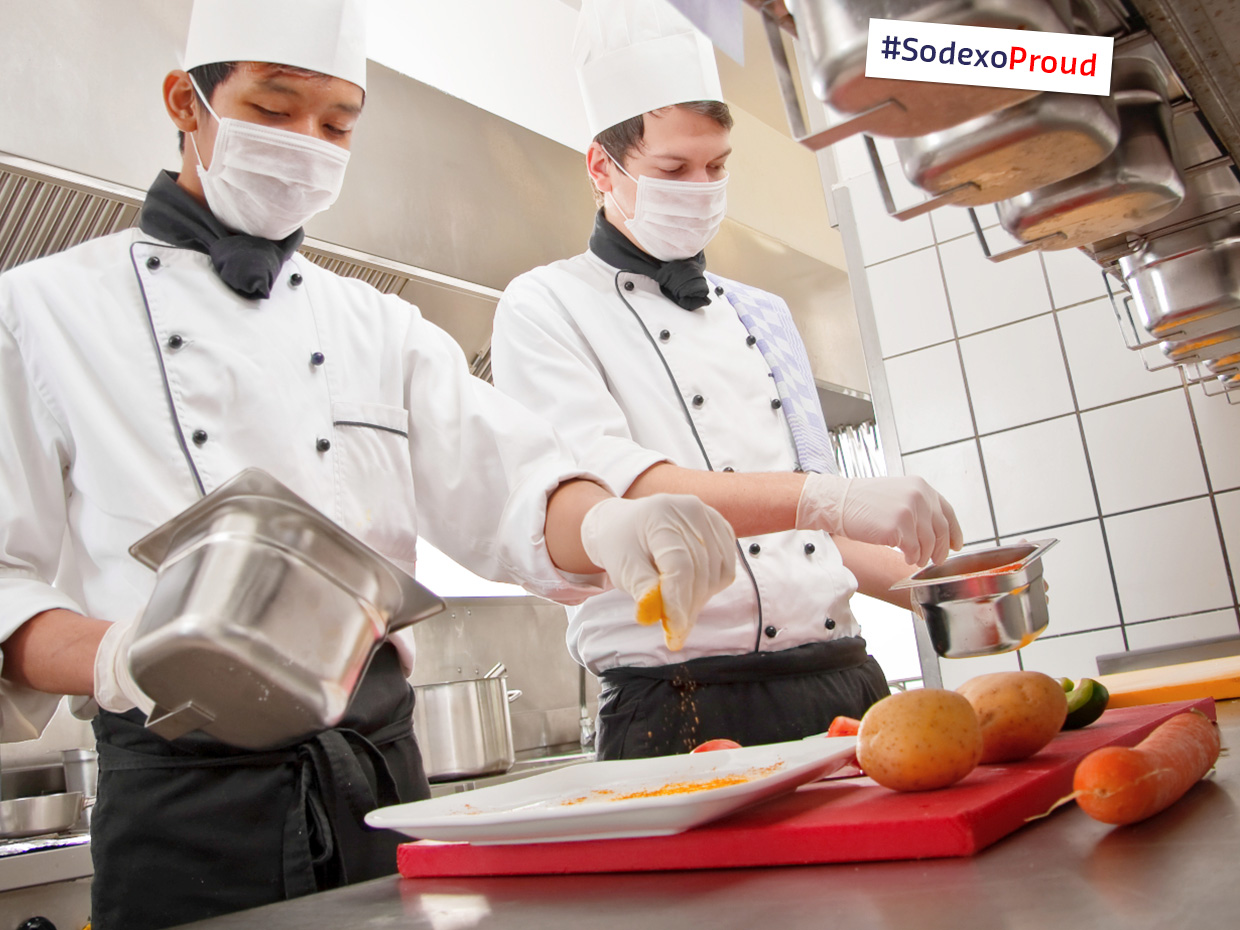 One of them, a C'Midy chef, usually operating in a high school kitchen didn't want to leave after the shutdown of schools in France, so he got approval to keep the kitchen operating to cook meals for a hospital near Paris, hoping to make nurses' daily lives a little better.
As the first of its kind, Brandeis University, in the US, didn't have a blue-print during the closure, but kept kitchen staff employed and cooking convenient, fresh food options for hard working healthcare staff. They split the cooks into two teams so the operation doesn't need to shut down in case someone tests positive for the virus. In one week they sent 2,200 meals to 5 Boston-area hospitals.
Michelin starred chef, Isabelle Arpin partnered with Sodexo to deliver worldwide flavors twice a week by insulated truck for Erasme Hospital in Brussels, Belgium. From a gourmet chef, serving around thirty diners nightly at ~80€ each, Arpin quickly became restless and decided to provide colorful, flavorful, "vitamin bombs" in the form of soup for healthcare workers …easily eaten while standing. But her community-focus doesn't stop there. They reactivated their suppliers - including one that employs the disabled, organized donations from customers and "solidarity fridges" to collect food surpluses, as well as accepting unsold product from major grocery chains.
Hospital kitchen staff set up micro markets for essential workers
To support their teams, many hospitals around the nation have tapped our supply chain experts to bring the grocery store straight to employees by not only making it conveniently available, but sometimes selling it at cost or offering payroll deduction to make it even easier.
For Example…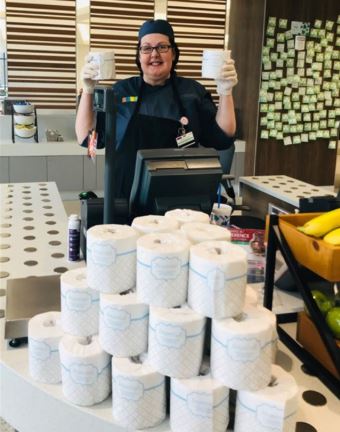 In the US Midwest, near Detroit, the Sodexo team and ProMedica Toledo Hospital offers milk, deli meats and cheeses, juice, butter, yogurt, rotisserie chickens and side dishes for carryout dinners, including the most prized of all items: toilet paper.
Sodexo Canada teams implemented a new pick-up initiative so hospital employees can purchase meals to take home which serve two, four, or six persons safely.
Our pop-up grocer at St. Luke Health Services in New York has expanded to include baby food and items donated by other team members, such as diapers, which are offered free of charge.
"The response has been overwhelming. From nurses and physicians to administration and frontline staff - [they are] very impressed and appreciative." - Rob Snoad, Reston Hospital
"Employees tell me their anxiety has dropped knowing they can get items right here," says John Tombolillo, general manager of Sodexo's foodservice operation at the senior living facility, St. Luke Health Services in Oswego, N.Y.
Holidays on the frontlines… Showing up and going the extra mile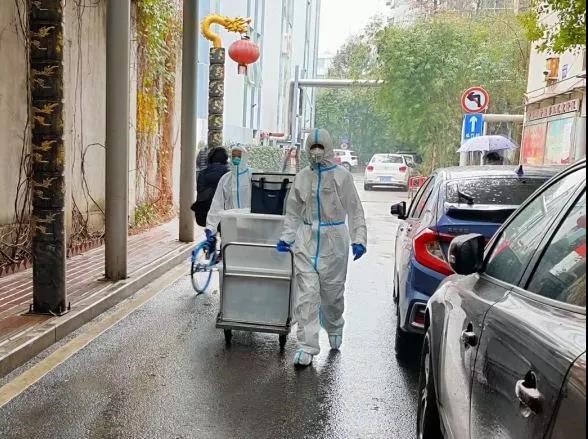 At the heart of Chinese New Year, in January, in Hubei (China), the first region deeply affected by the pandemic, our Chinese teams have been mobilized since day 1 to support medical staff. Our colleagues quickly understood the power of food on patients but also caregivers by providing special meal trays during this period which should have been festive.
Despite fear and apprehensiveness, our teams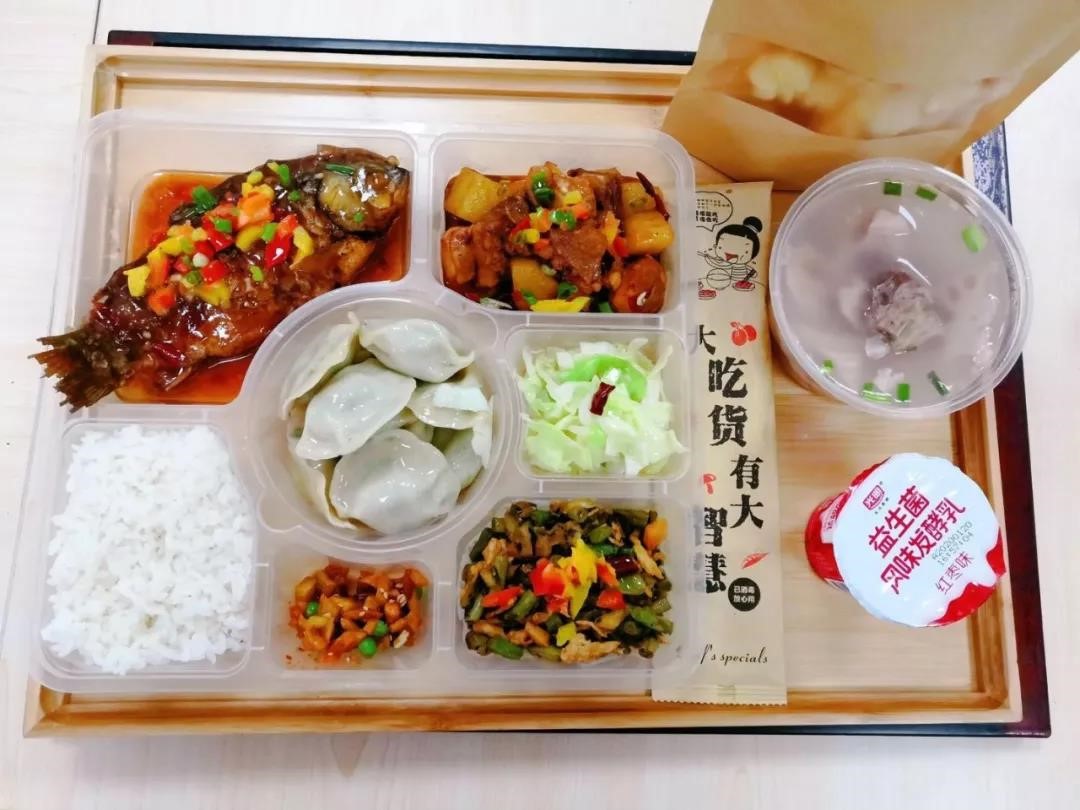 were guided by a proud courage as they knew that medical staff and patients were waiting for their help. "Our employees did a lot. Even during the Spring Festival, even under great pressure, no one was absent from their posts. And the service spirit really overwhelmed me! " Xu Juan, Unit Manager, Healthcare Segment. One of our consumers, a frontline medical personnel, explained: "The food is good, it's delivered on time, and gives us the strength to enter the quarantine zone and continue the fight, kudos to the team from our staff restaurant!"
Morale Boosters
At a time when people are confined, quarantined, and distanced, we are all finding that being together is a signature trait of being human. These efforts help people feel more connected and less alone at a time when it's needed most. The good news is that most of the time it's the little things that make a big difference.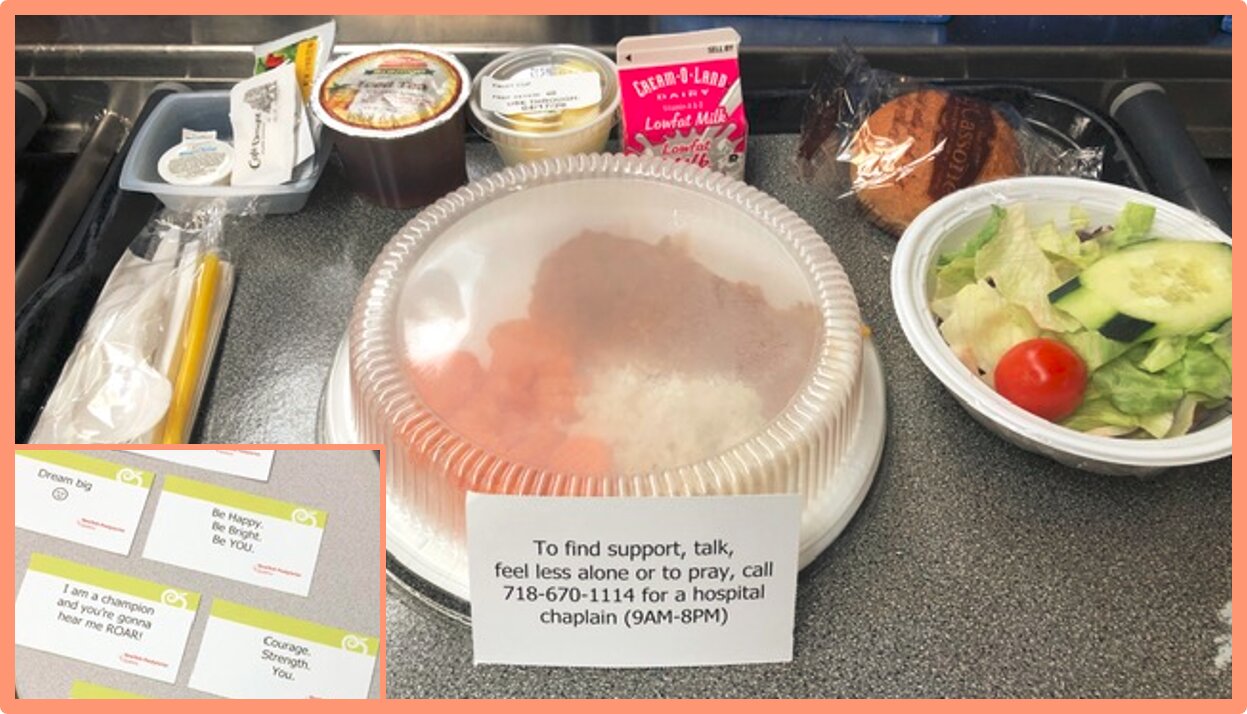 With visitors prohibited, patients began to feel worried and lonely. One hospital at the epicenter of infection in New York took action to brighten patient spirits by printing and delivering 17 different inspirational quote cards with patient meal trays, along with a support line for the hospital chaplain. (A team effort between Sodexo Blue Button and New York-Presbyterian Queens.)
With masks in extremely short supply, workers at all levels need to stay protected, while reserving the highest grade masks and respirators for critical medical staff inside COVID-19 patient areas. Numerous projects have begun in households across the world and partnerships have blossomed in unexpected places. After reaching out via Instagram for a quote for handmade cloth masks at a local vendor, nurse Pilanski at Bayonne Medical Center in New Jersey received a surprise response that the masks would be provided for free.
On the other side of the world, Alpha Bakeries donated 6000 bread ties in under 24 hours to be used as the nose piece in handmade masks at Goshen Health, in England.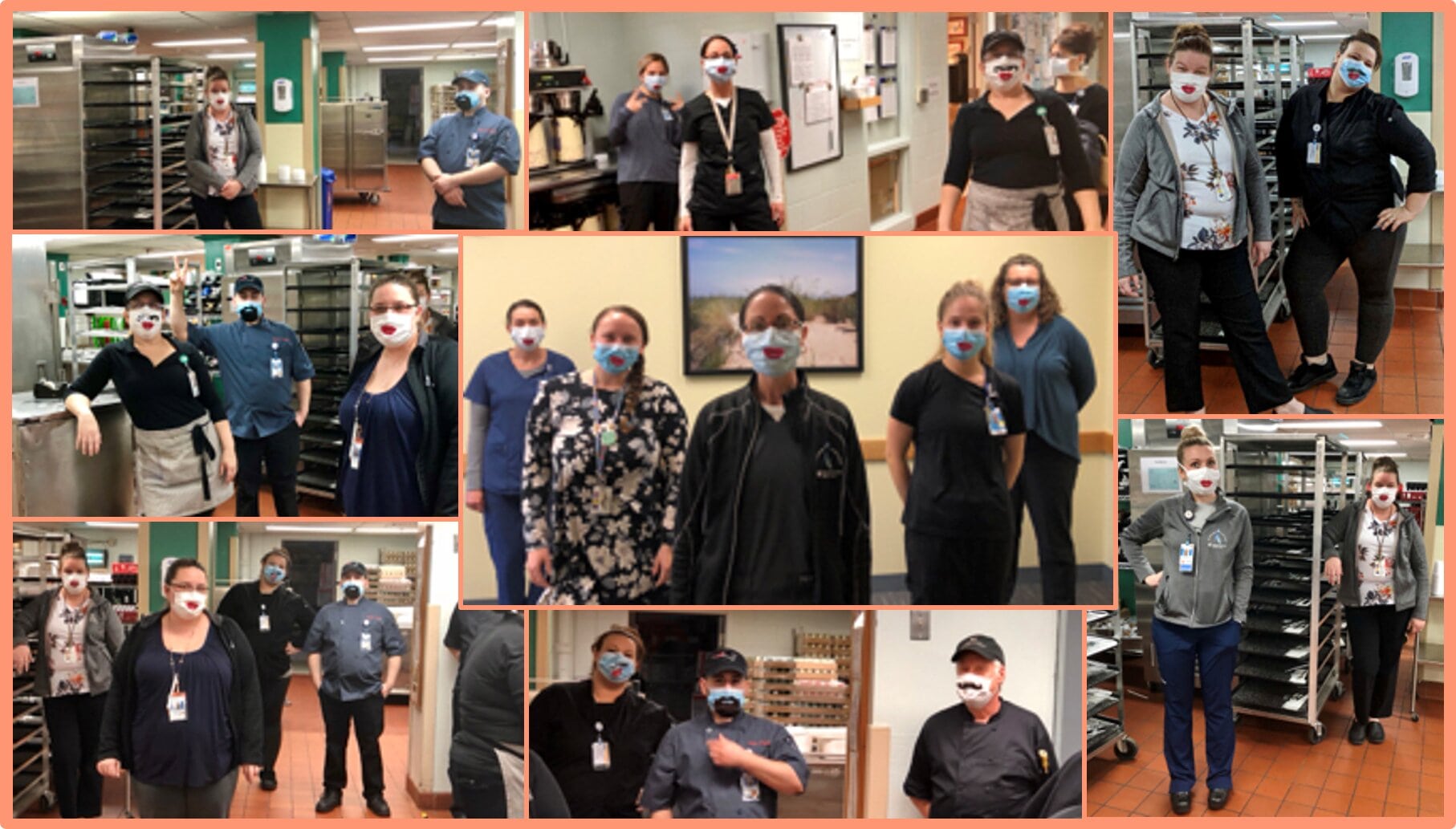 And now that smiles are covered, Sodexo teams boosted caregiver morale by adding smile stickers, mustaches and beards to their masks during their daily department huddle. Caregivers were reminded to give patients in isolation rooms a wave through the window to uplift their spirits.
In some cases,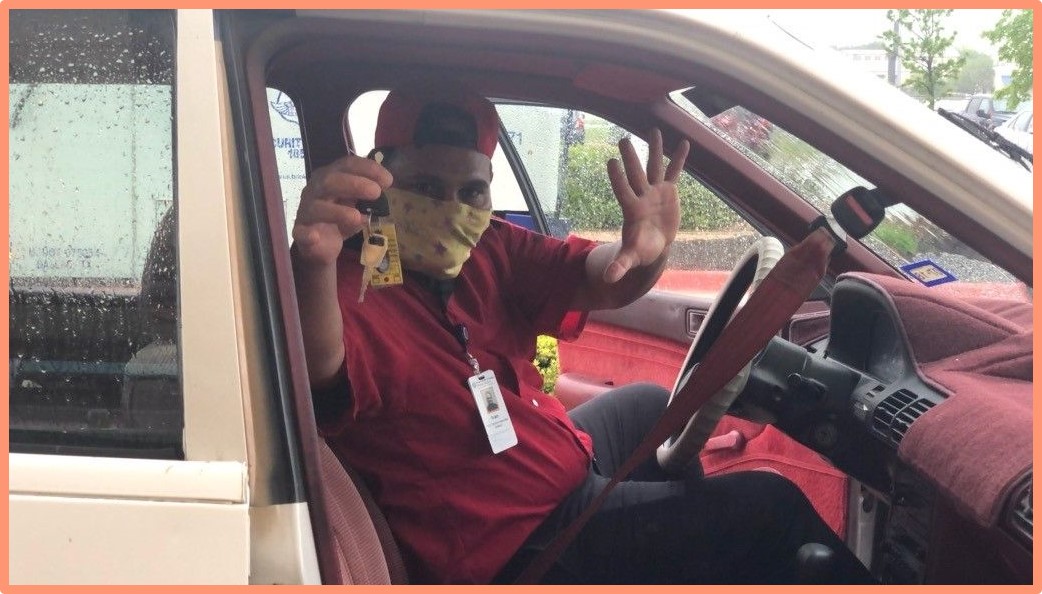 going above and beyond and pulling together as a team can really change a person's life. The 5:30am cook at Seton Medical Center was coming home from work and was run off the road, totaling his car. After the Sodexo general manager noticed that Ivan seemed exhausted and distant, she checked in to see if she could help. With no other transportation, she found out that he was walking to and from work, an hour each way, and would then walk to his second job and home again. Jennifer set up a GoFundMe page for him, found the perfect car at a used lot in town, and within 24 hours, the page and his colleagues had raised enough money to buy it.