Cheney GUO, Digital and Innovation Director of Sodexo China, said that:" Though digital technologies such as e-payment, e-commerce logistics, intelligent appliances and Internet of Things have been the norm in our life, digitalization still stagnated in the primal stage of traditional service industry. The 'catfish' that is going to stir up the industry just entered the stage. "
This article was published by The Economic Observer. Author: Cheney GUO, Digital and Innovation Director of Sodexo China.
In mid-June, along with my team I paid a visit to this year's CES Asia. While interacting with peers in the industry, I learnt that an increasing number of excellent start-ups had begun to build closer relationships with big companies. With their customers, resources and cash flow, big companies attract start-ups and include them in their industrial chains. While doing so, the big companies would have to bravely incorporate the new ideas brought up by start-ups, to act as a "catfish" and keep challenging themselves to form the "catfish effect".
Throughout my career, I had participated in various digital transformation projects. Most of them took place in tech and industrial fields while conventional industries were never involved. Last year, I joined Sodexo, a global company in traditional service industry to take on a new challenge, which is to lead Sodexo to realize the very first digital transformation project in this industry.
Back then I always had this strong feeling that though digital technologies such as e-payment, e-commerce logistics, intelligent appliances and Internet of Things have been the norm in our life, digitalization still stagnated in the primal stage of traditional service industry. The "catfish" that is going to stir up the industry just entered the stage.
Digital transformation: traditional service industry runs fast in small steps
In the traditional service industry, many people are still discussing the necessity and feasibility of digitalization. However, last year McKinsey Global Institute published a report saying that traditional industries can achieve 10% to 45% growth through digital innovation. To some specific industries, the extent of growth can be even greater. A conventional industry with over 100 years of history may even skyrocket after getting connected to the Internet.
After joining Sodexo and discussing with my colleagues and clients, I found that there is vast potential in creating digital transformation opportunities at work as well as day-to-day life, which are determined by the technology reformation and changes of terminal user habits. With over 50 years' persistent efforts in traditional comprehensive service industry, Sodexo succeeded in capturing the brand-new trend. In 2015, Sodexo Group launched the digital and innovation transformation program and built up the digital transformation department to develop services and products by integrating innovative business departments. By 2016, the company achieved initial progresses: over 100 digital approaches covering markets of the US, France, Germany, Poland, Israel, the UK, India, Singapore and the Netherlands, etc, were realized as planned.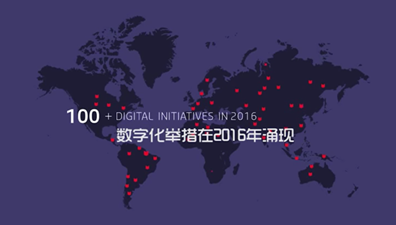 Therefore, I believe digital transformation has already been put into real practice instead of being limited in discussion phase in the traditional industry. Rather than existing on paper analysis, digital transformation will soon exhibit its growing competitiveness.
Innovation experience: China's experience can be applied to the world
When I started my career in 2006, I luckily participated in the overseas digital projects of IBM's global clients. During the same period, China's National Science and Technology Innovation Conference proposed the national strategy of independent innovation and the construction of an innovative nation. That is, developing digital economy also became an important part of national development strategy. I was very much inspired and encouraged by this strategy. During the past decade, China's digital industry has matured gradually. With the world-leading mobile Internet, China embraces over 700 million mobile Internet users and has become the most prepared country in terms of digital innovation, which makes people like us, who work in this industry, feel very proud.
However, we all shared a common impression that multinationals usually export their mature technologies and products to China with an integration of different degrees of localization. But now, our skills and experience are also developed enough to be exported to overseas market. We can now be the avant-garde of some digital innovation fields, which is quite cool.
I would like to share some stories in Sodexo:
I joined Sodexo in 2017, when China was the first country where Sodexo decided to implement its digital transformation strategy. After nearly two years of hard work, now we have a small team taking responsibilities of the digital transformation in China. The country has become an important front for the Group's transformation.
In January this year, during French President Emmanuel Macron's visit to China, Ms. Sophie Bellon, Chairperson of Sodexo Group's Board of Directors, was the only representative from a comprehensive services company. Witnessed by China and France's Commerce Ministers, Ms. Sophie Bellon and Ms. Sun Yafang, Chairperson of Huawei, signed a global cooperation agreement in the Great Hall of the People, involving Huawei's global facilities worth USD 400 million. The good news went wild on our colleagues' WeChat Moments that night and we all were jubilant. It was not only because we restrengthened cooperation with Huawei, but because we got a chance to spread our digital products and services to the world along with Chinese enterprises' "Go global" strategy development course and promote the two companies' further development. (Sodexo and Huawei first started cooperation in 2013, following Huawei's global business development, our cooperation entered into 12 countries distributed in four continents.)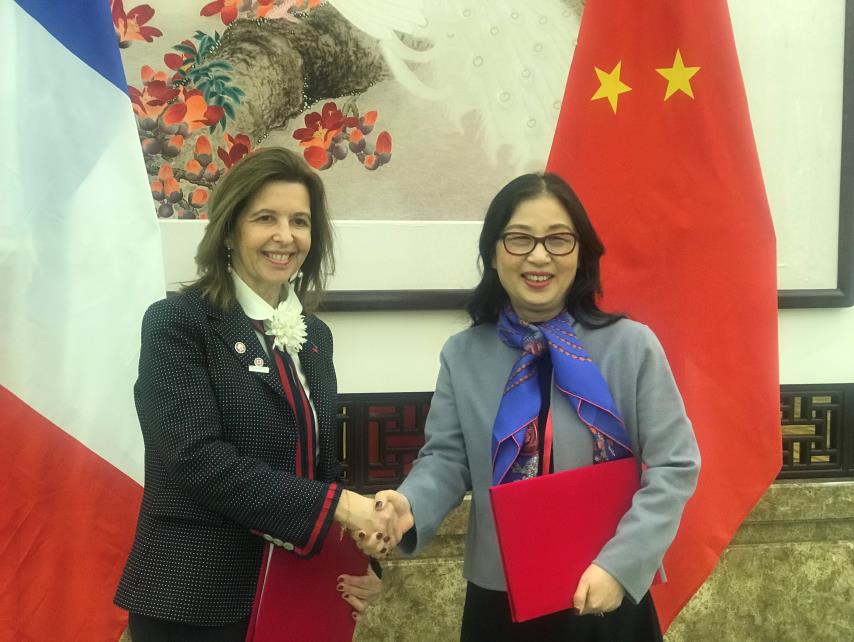 Sodexo Chairwoman Sophie Bellon signed global partnership agreement
with Sun Yafang, Chairwoman of Huawei
The second story happened in May this year, we brought our domestic technologies overseas. At the 2018 Viva Technology held in Paris, we selected two China AI start-ups and invited them to join the Sodexo booth. Their self-payment system of catering and smart retail solution hogged the limelight at the exhibition and attracted attention from a number of European customers and investors as well as praises from domestic media including People's Daily Online. Chinese consumers had already experienced such "Black Technologies" since we had promoted these two projects in the Chinese market previously.
One month later, Ms. Sophie Bellon visited China. After hearing our team's achievements, Ms. Sophie Bellon said, "Not only should Sodexo lead China's traditional service market, but also needs to spread these incredible digital and innovation solutions to 80 countries and regions where it has its presence." Through Sodexo's internal mechanism, we already started to share China's experience and industrial insights to other markets. Some specific projects have even been promoted in Singapore, India and some other countries and regions.
How can traditional service industry realize the "gorgeous turn"?
To create "Catfish Effect" in traditional service industry, you may need to build from scratch. Here, I would like to share some experience of Sodexo.
1. Starting from the mindset inside the company
First, we need to build up the mindset which makes digital transformation a trend and a popular topic which opens to each person. Thanks to the innovative Design Thinking training to the 100 middle and senior managers in China, digital transformation had already been a hot topic in our company before I joined the company. At the end of 2016, we invited external innovation workshops to teach our colleagues about how to design and develop new products and services freely just like when they were just eight. In this way, innovation and digitalization became a trend in our company.
Then we started to build our team, draw strategic maps and get prepared for the introduction and practice of the digital projects. In the meantime, we began to spread our innovation nurturing methods and concepts outside the company. In the beginning of this year, the middle and senior managers of China together visited the exhibition of innovative projects that have been put into operation. Meanwhile, innovative thinking was promoted among all the employees through internal competition. The top three contestants were selected by employees and clients, and were awarded by the company. They stared to explore the methods of implementing these ideas. By then, the innovative digital thinking concept was widely accepted by the staff members and thus we achieved our goal.
2. Construct future service concept—the VISION
In addition to mindset, we thought a VISION was critical to transformation. We have to allow people to see what our services would be like through the transformation. Thus, the launch of the "Services 3.0" concept was to build our vision, which links to advanced scientific and intelligent modes such as consumer big data analysis, project implementation and integrated solutions. With technologies, we tried to improve workplace service experience, maximize customer satisfaction and overturn traditional service mode.
3. Set up ecological system and implement projects rapidly
Based on mindset and guided by our vision, our next step was to roll up our sleeves and work with extra energy. What touched me most was the fact that we promoted our project at "digital" speed, no matter it was strategy setting or project implementation. On one hand, we could maintain the momentum of this trend. On the other hand, this was due to the urgent demand for transformation. Now, we have to show our clients and employees the change as soon as possible.
In the second half of 2017, we introduced service projects with advanced technologies and realized our promise of digital transformation, launching VR Kitchen Safety Training and service robots. At this stage, we initially set up our exterior innovation system through cooperation with start-ups. In addition, we invited our employees and executives to get experience of these projects. In this way, the outcome could be seen by everyone. Following that, we held roadshows for our clients to refresh their experience. The two projects achieved 100% satisfaction and were proven to be a solid foundation for further development.
4. Based on business development, we further developed products and services
The exterior ecological system is especially important to traditional service enterprises. Service industry competes with professionalism, which does not produce transformative technologies. So combining the advanced technologies and the professionalism in the right way to get more benefits is the key for the digital transformation of traditional service industry.
In this aspect, we conducted further development of our two core service lines: catering and facilities management. Through cooperation with exceptional incubators such as XNode, we connected the leading technologies in the industry and jointly speed up the development of digital restaurant and intelligent facilities management platform. The two modular solutions can bring consumers one-stop, customized and diverse options for different scenarios by combining various functions freely. We injected our 20 years' soft power and professional services to the solutions and realized it through technological methods, which can empower the transformation of traditional services in a digital way.
Martin Boden(right), Country Segment Director, Corporate Services, Sodexo China,signs agreements with Wei Zhou(left), CEO and Founder of XNode
Future: Mode Transformation and Some Other Thoughts
Digital transformation does not limit to the shinning "Black Technology"; it will realize business mode transformation eventually.
First, digital transformation represents the future business mode of the traditional service industry. The price mode will be adjusted as well as the service management standards. For example, cleaning robot can be set through programs, which would not only enhance the efficiency but also help to better implement the unified standard. Charging standards will be shifted to result-oriented mode from conventional head-count mode. Robot technology can also free people from highly repetitive and risky labor and spare them to do the safer and more creative jobs.
Second, digital transformation accelerates industrial transformation management, helping improve consumer satisfaction and boost operation management efficiency. Let's take the intelligent restaurant payment system as an example. Scanning the dish in one second, the payment can be checked. The advent of face recognition brings consumers new dining experience. What's more, the billing staff's efficiency is highly improved and dish data can be automatically analyzed. Besides, it guarantees customer health condition, assists food cost management for backstage operation and explores new profit growth points.
As a matter of fact, the traditional service industry is still people-oriented. As transformation bringing the reformation of business mode, we need to think about the profound issues behind it: digitalization is changing the way we work, but the ultimate target we serve is PEOPLE. It's just like what industrial revolution and Internet proved to us—technology will not make us jobless. We just need to think about how to improve people's value in this industry. In service industry, people are what Sodexo always values. It is the key to improve Quality of Life services. The issue is that everyone in this industry needs to explore and seek the solutions, and the final answer truly means the coming of a brand-new business mode transformation.
About the author:
Cheney GUO, Digital and Innovation Director of Sodexo China, is one of the core members of Sodexo Group's global digitalization and innovation team. He oversees the digital and innovation transformation of Sodexo China. Headquartered in France, Sodexo, one of the Fortune 500 companies, is a world leader in Quality of Life services. The company's digital transformation aims to provide the consumers with diverse, intelligent and convenient Quality of Life services. Sodexo China was honored with the Outstanding Contribution Award as China's Most Innovative Company in 2017.
Graduated from the University of Hong Kong, Cheney holds an international MBA degree. Cheney used to work in IBM, Danaher and Honeywell in Greater China and APAC as digital leader for decades with rich experience in digital transformation, marketing, e-commerce and new business development.