Amid the increasingly faster pace of life, people are showing more concern about what to eat during off-hours in a workday. As a Fortune 500 starting from providing working lunches, how far has Sodexo gone? Michel LANDEl, Sodexo Group CEO, accepted an interview from 21st Century Business Review and gave the answer.
When it comes to eating, from croissant made with fresh yeast in Paris and flagrant coffee on California seacoast, to joy of homemade dishes, enjoyment and happiness always accompany. However, whenever the working lunches step in, people usually can't help shaking their head and letting out a sigh as these meals are characterized by lacking of taste and variety. In fact, this is a common encounter for most office workers. Amid the increasingly faster pace of life, people are showing more concern about what to eat during off-hours in a workday.
Experience gaining more weight over functionality
Today marks the 50th birthday of Sodexo, who has worked its way to Fortune 500 from providing working lunches. Over the past 50 years, they have noticed an obvious change in consumer's demand, said Michel Landel, CEO of Sodexo, in an interview. "The supply must more flexibly reflect the demands in a traditional environment. Meanwhile the meal proving modes must be diversified."
Sodexo has been delivering a variety of service solutions to different consumer groups since it landed in China 20 years ago. The meal provider has specially designed "U Shan" for white-collar staff, "Joy+" meals for blue-collar workers, and the "Le Café" which is very popular among medical staff. The company has expanded its service beyond dishes and products to include an integrated set of solutions that span dining environment, service standards, among others.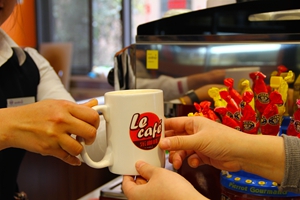 Le Café
"We have seen the rise of consumers, which to a large extent is because they have more choices than before. ...Customers are influencing and shaping our service portfolio. Our service has turned its focus from functionality to experience." said Michel.
Localization VS. Globalization
Interestingly enough, the French company has adopted the food traditions of Chinese. It is said that Sodexo develops stew soups with traditional Chinese medicine as ingredient to suit the soup-drinking habit of Guangdong people and provides it in a hospital served by Sodexo. As a result, this soup won wide applause among patients there. During traditional Chinese festivals, Sodexo held a series of activities, such as the Yuanxiao DIY and interaction with customers during the Dragon Boat Festival, which all drew broad participation from customers.
Sodexo are acutely aware that they must keep upgrading service standard in response to the constantly changing environment to meet customer's fresh needs for meals. This is called "Eat Local". Therefore, wherever Sodexo reach out, it will recruit and train local workers. In this way they are better equipped to design and offer customized service solutions that best reflect a country's needs.
On the other hand, with its presence in 80 countries, Sodexo never fails to leverage its advantages as a global food service provider in a bid to satisfy people's increasing interest in gourmet food.

Michel cited an international school in Shanghai as a case in point, which impressed people deeply. Student and faculties at the schools in over 50 countries can enjoy a large variety of Chinese and Western style daily meals prepared by Sodexo. In addition, it also holds National Food Festivals to introduce other countries' well-known dishes on a regular basis. All these present students the privilege to "enjoy global food" just in their school. For corporate customers, "we also introduce food from other countries, including the dishes from India, Vietnam, France and the U.S. We know many Chinese consumers want to try the food from other countries."
Every Facet of Quality of Life
Starting from simple work lunches, Sodexo has expanded its business to the integrated facilities management services industry in 50 years and its services are upgrading to a comprehensive portfolio.
The Consumer Insight team of Sodexo has provided solid basis for the company to transform and upgrade. Through in-depth studies, the team has observed 14 consumption pattern trends in the past 10 years, including "Life in the Fast Pane", "Me First", "Search of Authenticity", and "Mind & Body You". From these insights Sodexo concludes that customers want to make their life as juicy as possible in the future. They will pursue more personalized products and services under the culture of "Me First" and pay more and more attention to health.

Wellness Services
As early as in 2008, Sodexo has initiated the "corporate health management program" for Chinese corporate customers, integrated with designing, consulting, managing and delivering a wide range of innovative service solutions, and boosted employee satisfaction by about 15%. In 2013 Sodexo developed China's first IT management system for nutritious meal - "U e+" for patients in hospitals. This system has helped hospitals get rid of the manual recording of nutritious meals by doctors and improved their service efficiency and patients experience in hospitals.
Since 2013 Sodexo has assisted an international school in Beijing to improve air quality. It has helped the school lower the indoor PM2.5 from 150ug/m3 to lower than 30μg/m3 through modifying its teaching buildings and dome gymnasium. Moreover, to create a more relaxing and convenient work environment, an on-site team of Sodexo have built on the ironing service to develop flower booking and delivery as well as car washing services for client's employees. Like a caring steward, Sodexo works to enable our customers to focus on their work and our clients on their core business.

Facility Management
When talking about Sodexo's work in the past 50 years for improving people's quality of life, Sophie Bellon, chairwoman of the board, Sodexo, said, "Sodexo drives progress and is recognized for its role in improving people's quality of life and for its impact on the performance of organizations and its contribution to society." Sodexo has positioned itself as the world leader of quality of life services, which drives it to go farther in the business of "working lunches".